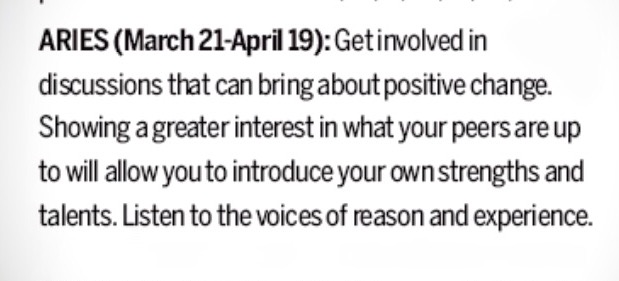 Yesterday, my Mom sent me a text message with the above image attached. She had pulled it from her local newspaper, and sent it with the message "How do you like that for this weekend?" referring to our first Cohort 21 face to face session. Believe it or not, I'm a believer in astrology. So, this morning I wasn't surprised when she sent me the image below, again with a super-sweet Mom message: "Today's horoscope. Think it is right on again today. Have a great day. XO"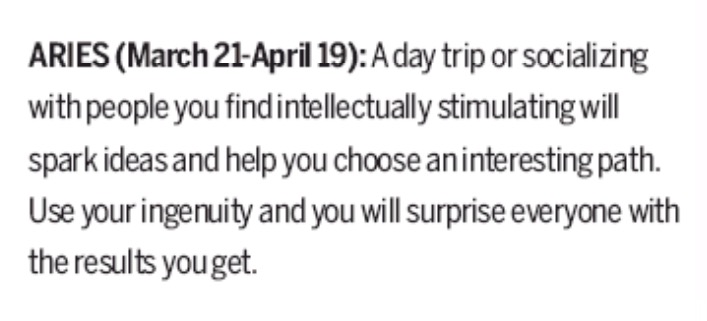 Based on this guidance from the stars, I thought I'd toss out some of my own advice for this year's Cohort 21 members.
Get involved in discussions that can bring about positive change.
As teachers, we are all very busy, and it's easy to get bogged down in the minutia. Try taking time every week — one lunch hour, 30 minutes on the subway, 15 minutes in the morning — to think big. Block off some quiet time to dedicate to reading a couple inspiring blog posts or sending a couple of tweets. It doesn't always need to be a well written blog post or a ground breaking idea. Simply involving yourself in the larger discussion about education is inspiring.
Showing a greater interest in what your peers are up to will allow you to introduce your own strengths and talents.
Pay attention to what others are up to. When I was a kid, we used to sing this song about a magic penny. It went something like this:
[youtube]https://youtu.be/FB5Z_30xSe8[/youtube]
Cohort 21 is just like a Magic Penny. The more you give away to others, the more you give your attention to them, listen to their ideas, read their blogs, the more you will receive back — both in the form of advice and ideas from them, and in energy and ideas for yourself.
Listen to the voices of reason and experience.
There is an abundance of knowledge and experience in the room — use it. I don't think anyone has done a tally, but I'm guessing there were hundreds of years of teaching experience in the room today. Both Andrew (@amcniven) and Geri-Lee (@glgodkin) spoke to the diverse range of creative teachers this in their first blog posts. Find "your people." Seek out others with similar interests and lean on each other for advice and guidance. I can't begin to account for how much of a difference my co-facilitators have made in my life and teaching practice. As mentors, friends, coaches, and peers, I am constantly looking to them for advice and guidance and they never let me down. Cohort 21 is an incredible opportunity to find a friend, a mentor, a co-conspirator. Who will be yours?
A day trip or socializing with people you find intellectually stimulating will spark ideas and help you choose an interesting path.
Don't skip a Face to Face! Do everything in your power to be at these sessions, it is where the magic happens. I think that I speak for everyone when I say that we all walked away from today's session energized, inspired, overwhelmed, exhausted and on the path to something exciting. Last year, I was away in NYC with my students for the first Cohort 21 Face to Face session. I tried my best to participate via Google Hangouts from the Staten Island Ferry, but really, I missed the boat as I wasn't really able to connect with people. This year, I moved my trip to NYC up a couple weeks to that I could attend the first F2F and I'm so glad I did. Each session sets the tone for the next several weeks and builds the foundation of a great professional learning community. As Marie (@maragona) pointed out in her blog,  Today we got to know each other a little, learned a bunch of new tools that we can use to connect with each other, and already began designing ideas together. How awesome is that?!
Use your ingenuity and you will surprise everyone with the results you get.
Today, everyone was willing to share, to take risks together and to try new things. For example, Tony (@tantoniades) said that he and Twitter used to be an friends, but they had irreconcilable differences and went their separate ways. However, he was willing to give their relationship another shot. It's this kind of open mind, which Tony so eloquently describes in his blog post, that will allow you to get the most from the Cohort. As both Brent (@brenthurley) and Heather (@hadams) point out, there is value in vulnerability. Be willing to try new things and the spirit of collaboration will stay alive all year. Don't be afraid to share your ideas, even in their infancy, with your peers. As Melissa (@mjolicoeur) put it, "sharing is scary," but the voice of reason (a.k.a Celeste @ckirsh) says, "you can do hard things." Believe in yourself and your ingenuity — no one will be surprised.