Imagine a running race that takes place in the remote mountains of Tennessee. The course is five loops of off-trail, backwoods hills. Each loop is 42 km long. That's 210km total. You have 60 hours to run this race. And the total elevation gain is the equivalent of climbing Mount Everest, twice.
Sounds impossible, right? What entrepreneurs might call a "Moonshot". But what if we choose to believe that it is possible? Why are people compelled to explore the boundaries of human capacity? And how might we build in our students the desire to attempt things that are difficult?
I recently watched a film called The Barkley Marathons, about this insane race that takes place in the hills of Tennessee every year. I found the race and Lazarus Lake, the mastermind behind the race, utterly fascinating. As someone who recently completed my first full Ironman, I understand people who feel compelled to push themselves to the edges of what they think is possible. But, there were also many points in the film where I found myself thinking about teaching and learning.
The somewhat insane and slightly twisted — but fully brilliant — Lazarus Lake touched on big ideas about what drives people. And he made me wonder how I could apply his thinking to motivating students. Watch this clip from the film, and I'll explain.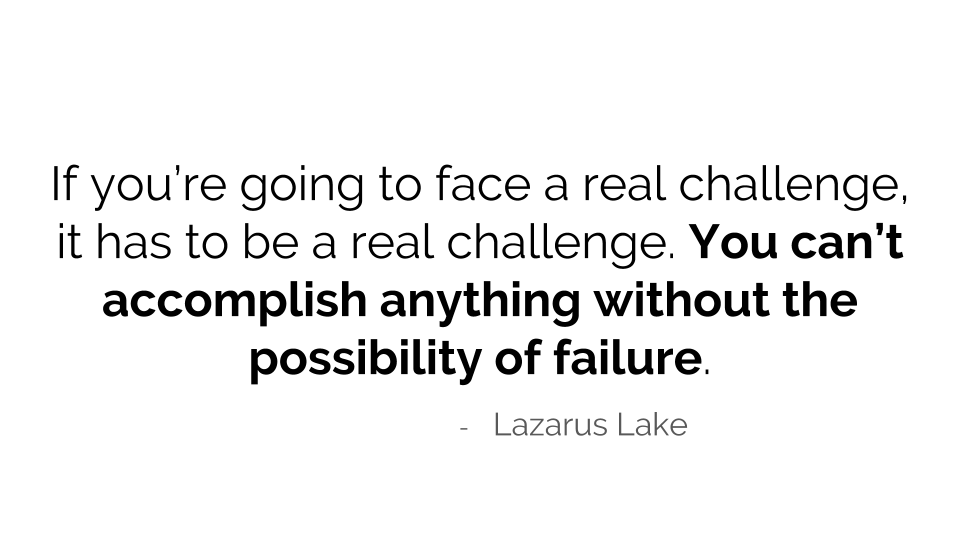 I have long held the belief that we need to make learning real for students. If what we are teaching isn't applicable in the real world, what's the point?
If the learning itself isn't real, then students focus on the only thing that is real to them: grades. "Grades are real, they matter more than learning!" (according to some of my former students). Too often, students are motivated purely by grades and the work that happens along the way is only valued as the means to get to the grade. This often means memorizing, cramming and following directions, rather than seeking out new learning opportunities or taking risks. What are they learning through this process? The "hidden curriculum" here is:
Taking a risk could put their grade at risk, so they learn not to take risks.

There's one right answer. If you can remember that answer and write it on a test, you are smart. If you're not good at remembering things, you're not smart.

Thinking for yourself is a bad idea. Don't question the teacher. Usually this type of behaviour is punished.
What if we made the learning real, instead of the grades? What if we taught students the process of learning, encouraged them to take risks, try things and fail? What if we told them to grapple with big questions, and allowed them to look up information that they needed when they need it? What if school were more like real life?
This is not a new idea. We're all familiar with Angela Lee Duckworth and her work around perseverance and grit. We've heard Carol Dweck talk about growth mindsets and we recall reading about Bandura's work on self-efficacy. I wrote about Lev Vgotsky and his theory of zones proximal development theory in my last blog post.
But, how do we do this? In my eyes, the answer is project-based learning using design thinking as a framework:
Design thinking is an iterative process. It requires students to come up with ideas, test them, and then improve on the parts that don't work. They learn that failure is part of the process, rather than a judgment of their ability. The problems they tackle through design thinking are real world problems, the relevance is immediate. They design solutions that are not just for the teacher, but for an actual audience. In my experience, students who participate in design thinking tend to stop asking about grades and start asking about how they can improve their idea.
Design thinking allows teachers to meet students where they are at. You can push that level 4+ student to take a risk on something and to think in a new way. You can encourage them to go farther with their ideas, test a prototype that might not work, and allow them the freedom to fail because their grade is based on process, not product. At the same time, you can also help that student who struggles. I find that students who typically struggle in school excel in design thinking because they are no longer being told that they aren't smart because they don't know how to memorize, or because they aren't good at communicating their ideas in writing. Instead, they are given permission to create something and share it in a way that makes them feel confident. And confidence is half the battle.
One of the incredible things about the Barkley Marathons is that failure is not just a possibility, it's a probability. Most of the people who start the race fail. And yet, the have the courage to start. So, with the start of another season of Cohort 21, my big challenge for the year is thus:
How might we build courage to try new and difficult things, in ourselves and in our students?