Every year, I take my Grade 12 Green Industries students to NYC for a weekend of experiential learning about urban sustainability.  I build the trip based on my own experience working in this field in New York, and often call upon many of my old contacts to help us with the experience. One such connection is the incredible Red Hook Community Farm, which is run by the non-profit organization Added Value.
Added Value started when Ian was a youth outreach worker in the New York Community Housing Authority (NYCHA). He started a small garden project with youth who had been in contact with the Juvenile Justice System, and saw that growing food was a theraputic and positive activity for them. So, he somehow convinced the NYC Dept. of Parks to let him turn a three acre paved playground (basically a parking lot) into the Red Hook Community Farm. He hired local youth, most of whom were living in NYCHA housing where the average income for a family was only $14,000/year, and gave them summer jobs working on the farm. They learned to grow food, they learned about horticulture and soil science, they learned how to cook and prepare the food they grew, and the got to take food home to their families.
Red Hook at the time (it has gentrified since) was a food desert, with many families relying on bodegas (corner stores) for their grocery needs. Suddenly, there was an influx of fresh vegetable and fruit into the community. They set up a farmer's market and a CSA program where local families could get affordable, fresh, organically grown food. The farm became much more than just a farm, it became a community center.
The Design Trust (where I was working) eventually partnered with Added Value to create the project "Five Borough Farm" which aimed to help City Officials and stakeholders understand the benefits of urban agriculture in order to increase resources to grow urban agriculture throughout the five boroughs of New York City. Since then, Added Value has remained an anchor for the Red Hook Community, and continues to be focused on educating and empowering youth in the community.
The farm also serves as an example of the devastating effects of climate change. During Hurricane Sandy in 2012, the farm — and most of the Red Hook Community — was severely damaged. Red Hook is a low lying area and historically a marsh land. When the storm surge hit three years ago, all of Red Hook was under water.
Long story short, it is for all of these reasons that I bring my Green Industries students to Red Hook every year. We talk about hurricanes and how cities can be designed to be more resilient, and we also learn about the widespread benefits of urban agriculture, beyond simply food production. But the best part about this trip is that they get to participate in youth empowerment first hand.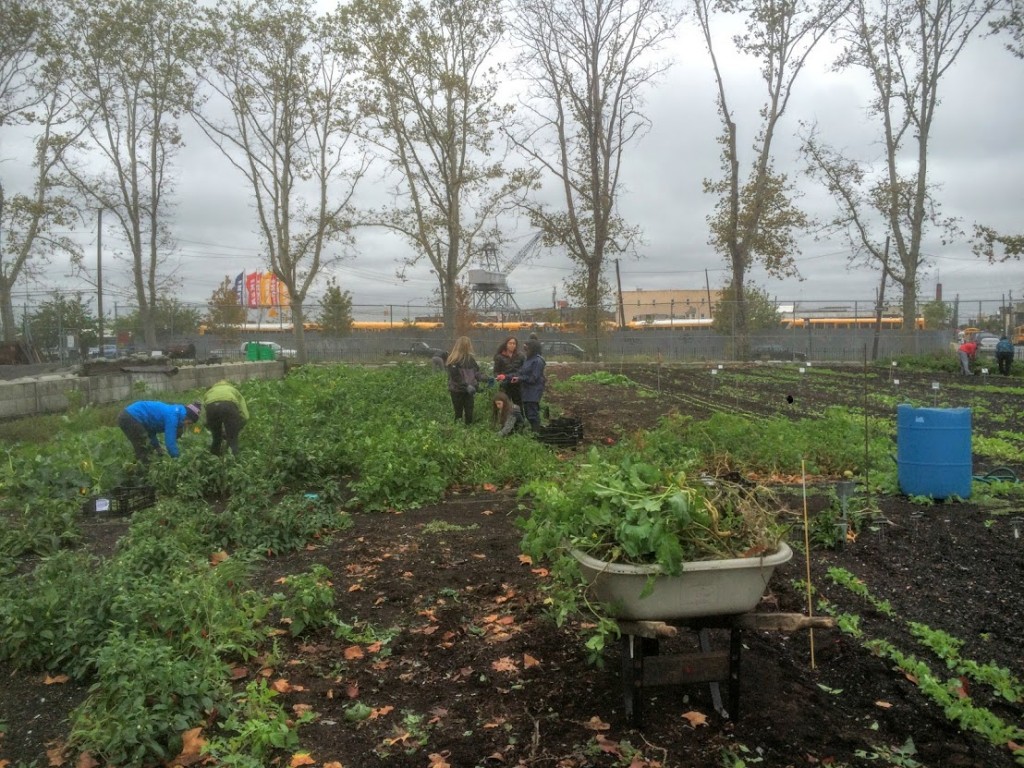 On Saturday morning, we arrived at the farm in the cold and drizzle, equipped with rain gear and ready to work. We were paired up with youth interns on the farm, local students aged 15-24 years old, and we set out to work side-by-side, weeding, composting and picking peppers. The youth were happy to tell us about their experiences both on the farm and growing up in NYCHA housing, and they immediately hit it off with our students.
I had the pleasure of working with three Greenwood students and a young man named Domingo. Domingo is 23 years old, has two children at home and grew up in NYCHA housing in East Harlem. He is an Americorps Green City Force Intern with Added Value. The Americorps Green City Force provides paid internships and funding for college to young people living in NYCHA housing to work on sustainability-related projects around the city. Interns also received leadership and life skills training, and the program seems to be working for Domingo. He told us that he fell in love with farming the minute he put his hands in the dirt. While we were pulling weeds, he taught my students about soil science, composting and integrative pest management — all in a very casual and easy going manner. The students responded with many questions both about his life and about horticulture.
Domingo's resilience and positive attitude was inspiring for me and the students. He said that "some people who grow up where I live, they think that life is what they are handed and that they can't do anything about it. But I think that I can change my life so that my kids have a better time that I did. And learning about farming has allowed me to find my passion and make a better living for my family."
At the end of the morning, the students would have preferred to stay on the farm and keep working along side their new pals. They all talked about how nice the other youth were and how interesting they found their life stories.
Watching this unfold was a highlight of the trip. After four years as the Service Learning Coordinator at Greenwood, I have organized and overseen literally hundreds of community service projects and thousands of hours of volunteering. We offer 16 year-round service programs, I've coordinated and led two international service learning trips to India, and I've managed fundraising efforts by students that total in the hundreds of thousands of dollars. And this one rainy afternoon on a farm in Brooklyn is by far one of the best examples of Service Learning Community Engaged Learning* that I have seen. Here were students from Toronto getting to know someone with an incredibly different life story, all while learning about plant biology AND helping the community. And at the same time, this young man from NYC was furthering his own skills in both farming and leadership, acting as a role model for younger students from Toronto, while also earning money to support his family. All while providing healthy, affordable food for the community.
One of my goals this year for the Social Science Department is to promote relevant, authentic, community-based learning. I'm also toying with the idea of building my Cohort 21 action plan around the same theme. By starting off the year on a farm in Brooklyn, I hope that I was able to set the tone for a year of learning beyond the classroom walls. Does anyone in the Cohort want to collaborate on a project based in the city of Toronto this year?  Let's talk!
* On a side note, I recently came across the term Community Engaged Learning, and I've decided to adopt the term as a preferred way to describe service learning. I've always struggled to reconcile with the term "service" as I believe it implies that "we" (the collectively more economically privileged) are going out to "help" or "serve" "them" (the collectively less economically privileged) and I believe that it ignores other areas of collective wealth (local knowledge, culture, history, self-reliance, etc). I don't like the dichotomy that it creates through a dynamic of "us helping them." As is clear in this case, real learning happens when we remove the perceived barriers and differences and work together towards a common goal, with both parties bringing expertise and personal experience to the table.