Why should we #teachcities to young people? For me, today was a perfect illustration of how the city, in particular public space, can serve as a platform for learning about the intersections of politics, economics, policy, science and art.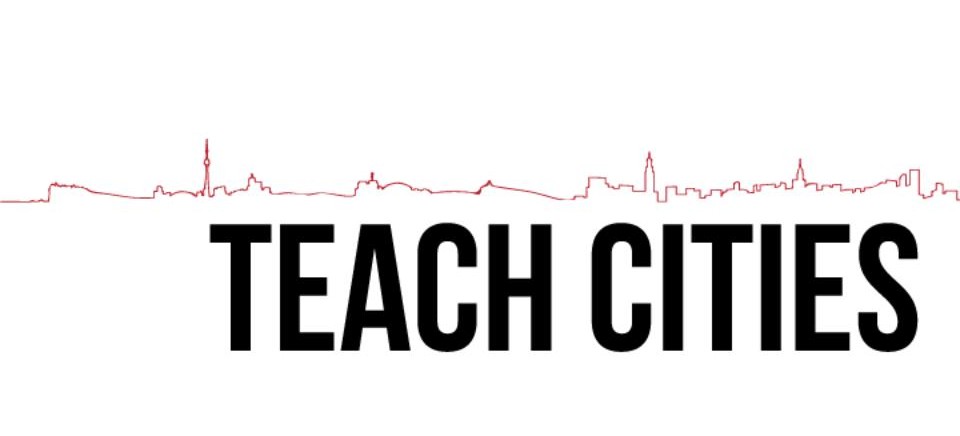 I'm currently on a trip to New York City with a group of grade 12 students in my Green Industries class, with the goal of showing them how cities can tackle climate change through the use of high performance design strategies. Today, we had planned to spend the morning at Rockaway Beach with Parks Administrator Portia Dyrenforth, learning about how the city is rebuilding after Sandy and using high performance design strategies in parks to prevent future flooding and create a more resilient landscape. However, quite coincidentally, we were unable to go to the shore because of a flood advisory as a result of Hurricane Joaquin heading up the coast.
Knowing that NYC never fails to provide incredible experiences for my students, I did a quick search of the usual players in NYC's architecture scene and found that there is a conference this weekend called Dwell on Design, hosted by Dwell magazine. While this event is geared at professional architects and interior designers, there were a couple of events that immediately caught my eye so we put on our rain coats and headed to SoHo to mingle with the pros.
The first session was titled "Re-imagining a More Resilient New York" and featured Illya Azaroff, Director of Design at +LAB Architect PLLC and Lance Brown, Principal at Lance Jay Brown Architecture + Urban Design. Both speakers highlighted the critical need for cities to adapt from climate change and illustrated the opportunity that this presents for designers to innovate. It was the perfect opportunity for the students to see the intersections between design + economics + politics + community building + climate change. The problems presented became multifaceted which appealed to different interests of the students and allowed them to see climate change as more than just an environmental problem.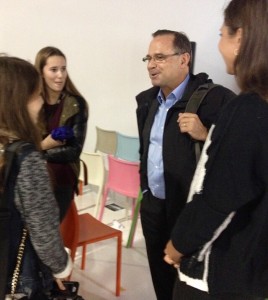 During the second session, I was thrilled to hear from Adrian Benepe, Senior Vice President at the Trust for Public Land. Mr. Benepe was also the Commissioner of the NYC Department of Parks and Recreation for 11 years, during which time he oversaw a major expansion of the city's park system, including the addition of 730 acres of new parkland including Hudson River Park, Brooklyn Bridge Park, and the High Line. He was also a champion of sustainable design. I had the pleasure of seeing Benepe's visionary leadership back when I worked at the Design Trust for Public Space, and we partnered with the Department of Parks to produce the High Performance Landscape Guidelines (HPLG).
Benepe referred to these guidelines, as well as Rockaway Beach, in his talk titled "Future Cities: An Interdisciplinary Response to Climate Change." Again, it couldn't have been a better fit for our trip, as we use the HPLG as the "textbook" for our course. Mr. Benepe was also incredibly kind in giving us a shout out during his talk and taking some time to chat with the students afterward.
Benepe's presentation highlighted the need for cities to shift the way that we think about parks and public spaces from being simply places for recreation to focus on their active role in providing ecosystem services. Government officials, planners, non-profit and community groups, and the private sector all need to come together to make parks a priority. In doing so, we will not only improve the beauty and biodiversity in our cities, but we will also see significant cost savings, pollution reduction, and the social and public health benefits that go along with having a park within a ten minute walk of all urban dwellers. Perhaps most convincing for politicians and private sector investors, we will see that parks (when paired with progressive public policy), can act as engines for economic growth and development in a city, the way we saw the High Line revitalize the west side of Manhattan and Brooklyn Bridge Park become an anchor for DUMBO (we're visiting both those parks tomorrow). In Toronto, I hope that Corktown Common, another great park by landscape architect Michael Van Valkenbergh, will serve as an example of how a park can ground a neighbourhood while also literally keeping that neighbourhood on dry ground.
It is these fine examples of design, engineering, ingenuity, and leadership that I hope will inspire my students to consider more carefully the public realm around them. I realize that not many (but maybe a couple?) of them will go on to be urban planners, landscape architects, politicians or Commissioners of Parks; but, I hope that wherever they end up, they will experience the city and the public built environment from a slightly shifted perspective. I hope that they will see the power of public spaces to transform our city because in the words of Mr. Benepe: "It is abundantly clear that the livability of our city depends on the extent and vitality of our park system"
For more of my thoughts on why we should #teachcities, check out my TEDx talk from earlier this year. (Skip to 1 hr 22 min…or watch the whole thing and hear my intelligent and thoughtful colleagues and friends share their wonderful ideas for teaching cities!)