As I mentioned in my last post, I have decided to focus my action plan on using online tools to build my PLN within my school. Awhile back, I wrote a post on the Klingenstien Institute blog, Klingpspace, about Networked Learning Communities. Since then, I've been doing some casual research into what makes effective PD, and how can it become embedded in our school communities.
I have found that the three biggest factors in learning seem to be motivation, good coaching, and an ongoing, collegial conversation with other learners.
Motivation
[youtube]http://youtu.be/u6XAPnuFjJc[/youtube]
Like most/all individuals, I need to be motivated in order to learn. In order to be motivated, I don't really need a reward such as grades; but, I do need to feel like there is a purpose in my learning and that I will see results. I recently shared this video with my students, in which Daniel Pink explains the surprising science behind motivation. Basically, he outlines that rather than rewards, three things are required in order to motivate people: autonomy, purpose and mastery. Old news to most of us teachers who spend our daily lives trying to motivate kids to learn. If I give my students these three things, they undeniably perform better.
So, it makes sense that the same would be true for teachers in a learning situation. Cohort 21 is a good example of a motivational force because it provides these criteria. Participants have autonomy in that they are able to develop their own personal action plan based on their needs and interests. They have a purpose, in that they are doing the work to not only improve their practice, but to share it with their peers in the Cohort 21 community, thereby extending the learning. Finally, because it is a year-long, embedded program, participants have the ability to develop a mastery over using these tools — even if they don't begin to use them right away in their practice, they have a safe space for experimenting with these tools allowing them to gain new skills.
Coaching
Like most, I find the ability to master new skills to be extremely gratifying. This is why I do crazy things like learning how to swim for the first time when I was 25 so that I could compete in triathlons, or teaching myself how to rewire my entire house this summer (sure, I saved $10k, but really I did it because I wanted to be able to say "I did that"). However, in order to master these new skills, I required good coaches. My swim coach Earl taught me to "be one with the water" and my dad, a veteran electrician, showed me how to stick a screwdriver into an electrical panel and not get fried.
In a recent article in the New Yorker, author James Surowiecki builds a compelling connection between the coaching of elite athletes and the need for better coaching of teachers in order to improve America's education system. He notes that "ethos that underlies all these performance revolutions is captured by the Japanese term kaizen, or continuous improvement. In a kaizenworld, skill is not a static, fixed quality but the subject of ceaseless labor."
He goes on to explain that over time, coaching in elite sports and in corporations has grown increasingly sophisticated, and yet, the training of teachers has remained a relatively isolated, unsophisticated experience.  Surowiecki outlines a study done by Elizabeth Green, who discovered that the key to effective professional development "lay in the fact that no teacher worked alone." Surowiecki explains how "this method—with its systematic approach to learning, its emphasis on preparation, and its relentless focus on small details and the need for constant feedback—sounds like the way athletes train today."  Therefore, just like Kobe Bryant, we teachers too need good coaches and a systemic approach to training in order to improve.
Ongoing Collegial Conversation
Finally, I am a highly social person, and I need face-to-face interaction in large groups and one-on-one accountability in order to learn. I am not the type of person who thrives in an online course. I need to see your face, shake your hand and have a casual conversation with you in order to fully engage in a dialogue with you. The beauty of Cohort 21 is that is combines the highly personal experience of blogging with face-to-face interaction, creating a sense of community. After the first F2F last weekend, I left feeling inspired and motivated by all of the incredible things that other Cohort 21 members were doing in their classrooms. As Garth pointed out in his recent blog post, this network is a way for us to leverage each others strengths and collectively get better.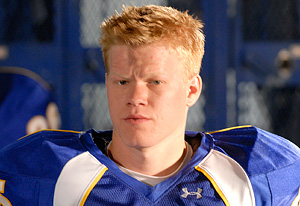 Or, as Landry Clark on Friday Night Lights said: "It seems to me that we can either win together, or we can lose alone."
In an article posted in Education Canada earlier this week, Pamela Adams and David Townsend highlights a study on professional development in which teachers moved from a model of isolated action research to one of collaborative inquiry, which is built on a model of action research but adds in a collegial component. Cohort 21 is based on a similar model.
Collaborative Inquiry is a PD process which is:
| | |
| --- | --- |
| Sustained rather than episodic | Cohort 21 is a year long program that encourages ongoing interaction between members |
| Shared responsibility rather than external accountability | No one is grading your work at Cohort 21. Or is everyone? The blogs create a shared responsibility for learning |
| Here rather than there | Action plans are embedded in our classroom practice – providing, real, tangible results for our students |
| Differentiated rather than mass-produced | Action plans are highly personalized, focusing on each teacher's unique goals and challenges |
| Inquiry-based rather than didactic | Cohort 21 provides participants with tools (Twitter, Google+, Diigo, WordPress) and frameworks (SAMR, TPACK, TIM) and then sends participants off to explore their own big questions about their teaching practice |
| Shared rather than private | Our ideas, action plans, successes and failures are shared via our social media tools, allowing us to work through challenges together. |
Currently, I work with a very motivated group of teachers. My colleagues are completing master's degrees, taking online courses, and genuinely working everyday to get better at what they do. We also have excellent coaches and mentors within our staff. We are friends, colleagues, teammates, co-conspirators, and comrades. However, while we spend a lot of time talking about the latest episode of Friday Night Lights or the Bluejays, we don't have much opportunity for sustained, collegial conversation about our teaching. I hope that by encouraging others to use the Cohort 21 toolkit, and by bringing other tools that I learned about at Klingenstein such as Critical Friends Groups, we can develop an ongoing conversation space for sharing ideas to help us all get better.
PS – Note to self – searching for an image of Landry Clarke may lead to spoilers when I'm only on Season 2. Oops!