Can Twitter Change School Culture? It is for me!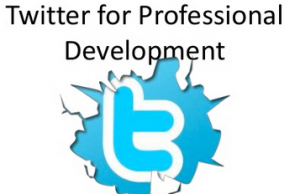 How did my school go from almost ZERO twitter connections, to being part of a CIS Ontario-wide movement to connect on Twitter with other schools across disciplines and grades? What started as zero twitter chatter within my school, grew quickly to over 15 teachers, either starting new with Twitter or repositioning their Tweets to connect with colleagues. On topics as diverse as Physics, LGBT issues, and the Toronto Election, #BVGLearns is now part of a conversation with #YorkLearns and #LCSLearns.
---
Over the month of October, I introduced a "Connected Educators' Ninja Warrior Training Program." Borrowed from Scott MacGlintic, I modified it for our teachers and away I went. I introduced it the next day as an optional experience, but one with great rewards: click here to see the whole program.  I wasn't sure how this was going to be received: woudl this be a welcome challenge? Too simple, too much, or just too new?
I quickly discovered there was a hunger for this type of PD; for these types of conversations; for these types of connections. There were Twitter experts in our midst, and there are 4 no-longer-newbies to Twitter.
While it is hard to say what the concrete correlations are to these connections, it is obvious that my colleagues have enjoyed a increased awareness on issues that they are concerned with, and following.
One of my favourite moments was after a Lunch & Learn session on Learning Goals.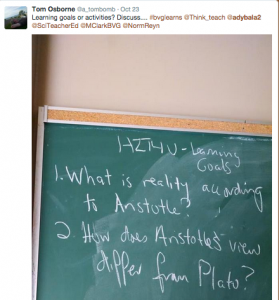 Tom Osborne (@a_tombomb) went to his class and posted this picture with prompt: (see insert on the right). He is modeling risk-taking and life-long learning with his colleagues.
This is an excellent example of using Twitter to extend the conversation, and engage colleagues in real-world PD. This post was a conversation both on Twitter and in the hallways, F2F.
Another great story is from @adybala2, who is new to Twitter, but in one month has learned and grown in her use to a sophisticated level. Running Student Vote is no easy feat, but by leveraging connections on Twitter, she was able to grab great resources,
and embed new ideas within her class with ease.  She is an experienced teacher, modeling risk-taking and life-long learning with her students. She grew from lurking, to retweeting, to retweeting with her own comments, and ultimately to her own unique posts about learning, her classroom, and her school. Where will she go next?!
My big take-away from this Connected Educators' Ninja Warrior Training program, is that I've learned a lot about my school as a Learning Organization, as well as a lot about my colleagues. However, I think that one of the most important things that came out of this was that my colleagues now know more about who I am: an avid tweeter, risk-taker, life-long learner, and someone passionate about shifting the education paradigm for the 21st Century. I like to think that when I run in-house PD, my faculty won't be surprised by my ideas, my passion nor dedication to supporting them on this journey.
I encourage everyone reading this post to drop in on the #BVGLearns conversation. It's a great mix of teachers working together, learning together and connecting together. I'd also like to thank my colleagues for engaging in this experience, and it is my hope that we can continue down this path together.