When I was reflecting on what I learned during Cohort 21 this year, the number 1 answer I have is that I learned so much about interactive oral communication.
I have spent a good amount of time reflecting on when my students speak French in class and when they don't. I realized that they speak with me in French a great deal, and they find success in orally presenting projects they've completed. What were missing were opportunities for my students to speak French to each other.
With this realization in mind, I redirected my how might we question to focus on how I can support and encourage my students to build this skill.
What's exciting about this realization is that it falls entirely in line with the trend in second language education in Ontario towards the CEFR (Common European Framework for Reference). In its simplest form, the CEFR encourages language learning via authentic situations vs grammatical drills and vocabulary lists. Interactive communication thrives in the CEFR.
Instead of worrying about what my students know about a language, I needed ask myself what can they do with a language. (source) And this meant that I had to increase my expectations of my students.
To help me with this, I spent the day with a teacher whom I know is rocking interactive oral communication. Richard Smith teaches Grade 7 and 8 Core French in Ottawa and is passionate about getting middle school students to speak in French.
He reminded me that we are the model for our students. We need to be excited about speaking French in class, and speak French as much as possible.
As I watched him teach and thought about my own lessons, I realized that I often structured my lesson as:
1. a teacher-directed thing – 30 mins
2. time for individual or partner work/discussions (the latter which often shifted into English) – 20 mins
I was asking my students to do the hardest part at the end of the lesson.
French is not easy. It's a tough subject and a tough sell for a lot of middle school students. But they can do it. And we can sometimes forget that most of them want to do well and enjoy it.
However, we have to structure our lessons for success. I needed to move the hardest part of their 50 minute period to the beginning. If they are going to be speaking to each other, I need to get to them while their momentum for the class is still high.
Now my lessons look like this:
1. 2 or 3 grammar raps and a handful of oral review questions connected to the raps to warm everyone up. (see www.aimlanguagelearning.com and www.educorock.com for the best grammar raps) – 5 mins
2. Interactive oral communication activity or oral discussion. (Language teachers in the house – bookmark this Google Slide presentation. It's Richard's bank of communication learning activities and on its way to being my most visited website of the year.) – 15-20 mins
3. a teacher-directed thing either from CEC or AIM  (often, but not every day) – 15 mins
4. individual or partner work time (usually reading/writing) 10-15 mins
So far, it's going well. There is still lots of room to grow. There are moments when we still need to use some English in the classroom; however, my students are all generally pretty excited about the new energy and new learning activities in the classroom. For example, my grade 7 students love the "Last Letter, First Letter" challenge with teams creating lists of 30, 40, and up to 46 words in 7 minutes!)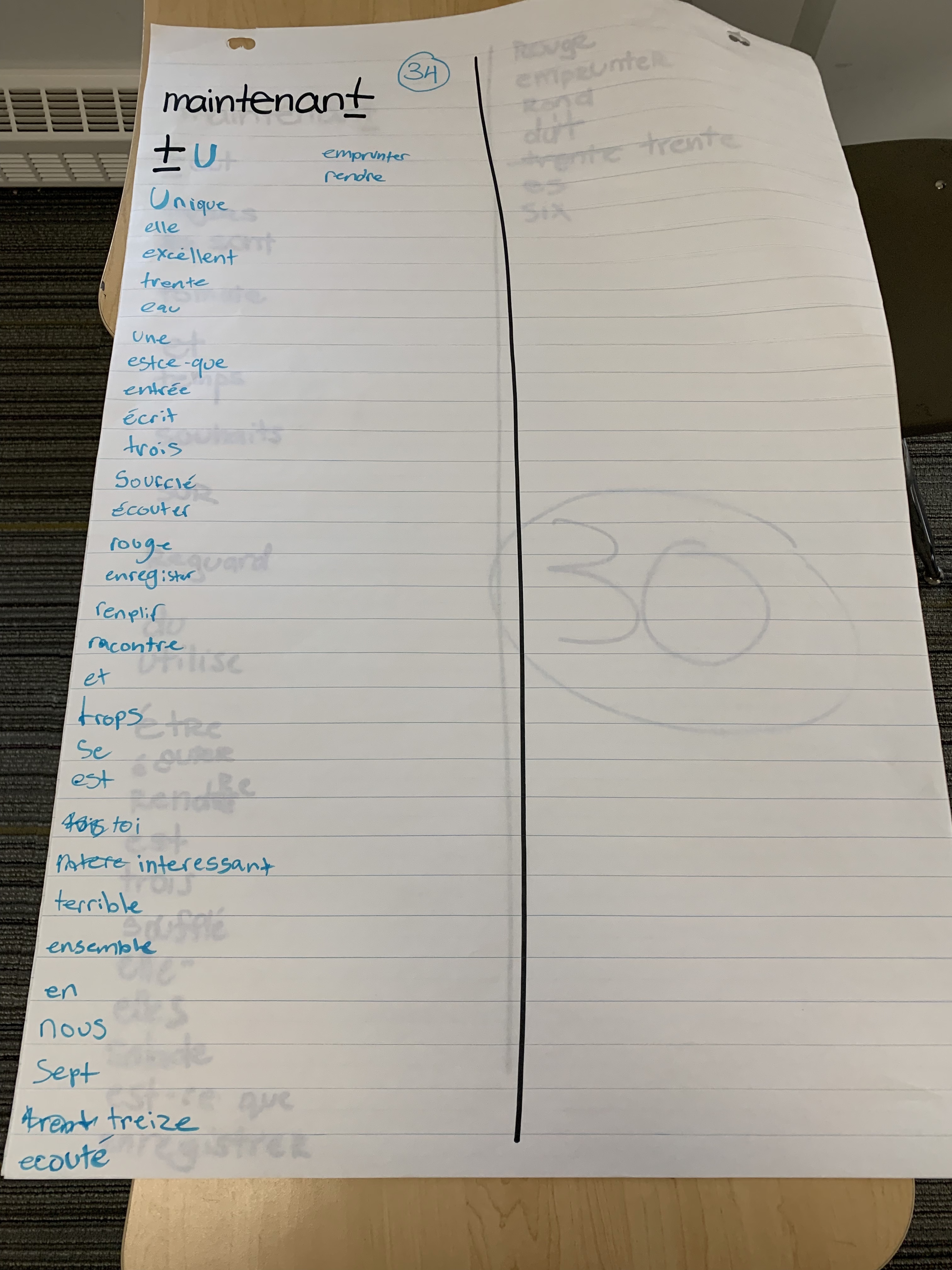 It has meant I've had to say au revoir to other pieces of our program (some of which I love so hard), but I know what we're doing now is important and what my students most need at this time.
Jenn