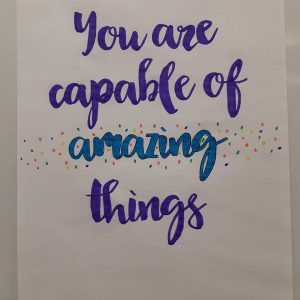 This week I didn't do something. It was amazing.
Last year I assigned a (boring to grade, probably only slightly more interesting to write) paper about metal in the body. I instructed students to research bone replacement/repair and work out how metal was actually used in the body.  I even gave them a website to start their search.
This year, I assigned a similar project. It's a presentation. I didn't specify how students are to present – I went free range – no criteria for presentation, no time limits or minimums  – and have groups signed up to present through theatrical productions, monologues, stand and deliver presentations and videos. There is no section on my rubric assessing the presentation itself. Students will get non-graded feedback on presentation skills so I can more accurately compare presentations by focusing just on the science within a presentation.
This year I didn't specify what "metal in the body" they had to research and I had students asking about metalloids (silicone), wearable tech, braces, piercings, iron, old school dental fillings, mercury, grillz (rapper metal teeth/decoration for those of you like me who might need to google that one…) amongst the titanium rods and screws that hold most of us together in some way.
This year I did ask them to consider the ethical, political and social aspects of using their particular metal in the body rather than prescribing research about how it worked. Students are researching and learning about how the metal we use in our body is mined, some are getting angry at the environmental damage and we're having great conversations around ethics in science. Does our right to have a piece of metal in our body trump the right of the community who is dealing with the environmental damage or the miner's work rights? Who pays for the metal we use? How much does it actually cost to create some of these things? How much do we charge? How are politics influencing what metals we use in medicine? Should politics influence this? What are the environmental costs? What rights do the miners have in small third world countries? Is there another metal that could be equally as suited? Guys – these are the questions my students are asking each other. My EIGHTH-grade students.
The best thing I didn't do this week was put a ceiling on their creativity.