When critically thinking about Class Dojo  it can be argued that it is simply a fancy sticker chart, a extrinsic reward system that much research has shown we should avoid in our teaching.
The arguments I have heard  against Class Dojo go something like this:
Learning should come from wanting to learn, making the curriculum exciting and finding connections to the student so the prime objective is to learn for learning sake and not to get a shiny sticker (or in this case a nice sounding beep and a point).
To the above argument I would agree that learning should come from intrinsic motivations. I don't think class dojo should be used to reward work, that would be horrible.
What it should do is help make students explicitly aware of their behaviour. In our school we have identified 8 pillars of student learning skills:
Initiation: Being able to recognize one's thoughts to get started on a task.
Flexibility: Learning to adapt by shifting one's focus and pace in various situations.
Attention: Focusing long enough and accurately enough to learn important information
Organization: Manging space
Planning: Managing time
Working Memory: Retaining information long enough for it to be stored in long term memory.
Self Awareness: Having both sufficient self knowledge and an understanding of how one is seen by others.
Managing emotions: Expressing one's feelings in proportion to the events that excited them.
These 8 pillars along with the school's values of responsibility, respect, balance, compassion and integrity have been the foundation for the categories I have used for Class Dojo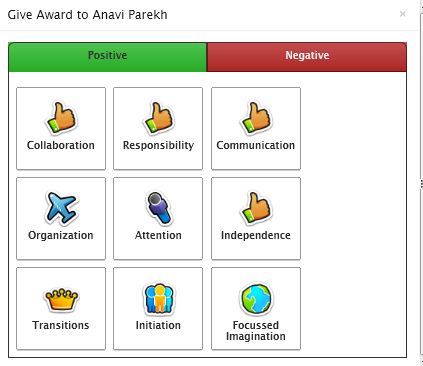 None of these have to do with the actual quality of work. If someone does a 4+ job, they do not get a point.
What Class Dojo does is allow students to monitor their success. I have put an I pad at the back of the class so the students can go put points there. This avoids large comparisons and students continually staring at the smartboard instead of working.  This has worked at improving students awareness of their behaviour.  I am not the only one.
As written here: http://gettingsmart.com/cms/news/class-dojo-goes-viral-raises-seed-round/
"There's this whole other half of education that is currently unaddressed by education technology; the half that goes beyond just building good test scores to building character strengths that are essential for lifetime success," says Chaudhary. "There's 40 years of academic research, as well as practical evidence from some of the best-performing schools in the country, that when you build character and behavioral skills it leads to two to four times the improvement in academic results, graduation rates, health outcomes and other socioeconomic measures. However, ed-tech hasn't given this space the same level of rigor and data-driven tools that we currently see for academic content. Behavior is the first step to building these broader character strengths….
Teachers are seeing incredible results from kindergarten to high school. A nationwide survey of ClassDojo users showed a 45% – 90% increase in incidents of positive behavior and a 50% – 85% decrease in incidents of negative behavior. Jed Dearybury, a 2nd grade teacher in Spartanburg, South Carolina had this to say: "ClassDojo completely transformed my classroom. As I implemented it midyear, the focus became positive reinforcement because of ClassDojo's easy, user-friendly style of displaying and rewarding positive behaviors of my choice. The class became so positive and compassionate to one another that we became known as the 'Class of Encouragers!' I cannot wait to start back so I can use this wonderful, free, online tool for the benefit of my students."
This program allows you to help take ownership over their own behaviour and see where they need to work at. In the negative behaviour side I just have one tab called "correction." It is only used if I, or a student has made an error hitting a point in someone else's box.
So far the use of class dojo has worked.
As well, here is a link to a grade 8 teacher using it:
http://www.youtube.com/watch?v=b5uihmPlbvA this is an excellent instruction manual.