When you walk into a McDonald's restaurant, you are immediately overcome with the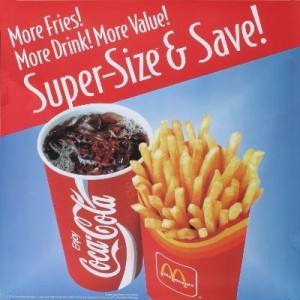 familiar aroma that accompanies McDonald's from Toronto to South Korea. You know exactly what you're going to get, and you know you'll regret the visit in no more than 3hours time. That said, there are many things that McDonald's has going for it. Choice of what to eat, how much of it you want to it, ability to substitute your soda for a milkshake and many are open 24 hours a day!
In trying to SuperSize PD and get people jazzed about new things, I had so many ideas flying through my head. Thanks to @lmcbeth, I was introduced to and started with design thinking for educators protocols to really hone in on the issues. I wanted to empower teachers in their pursuit of a Self-Directed Professional Development Plan. I looked at the toolkit and visited createdu.org to look through some excellent examples of design thinking in education.

Empathizing
When empathizing with colleagues I had conversations with those who had heavy workloads (big classes, coaching responsibilities, residential) all the way to those who were part-time. I put out a survey to see what people wanted in their PD pursuits and what obstacles were impeding them, and I blogged and participated in Hangouts which led to some really great insights. I learned a lot and it boiled down to a just a few things;
level of comfort around incorporating new tools in class (helping students or something going wrong)
finding the time to explore new things…
Not knowing how or where to look
Feelings overwhelmed with change – if a new tool is introduced some feel like they must use it.
Defining
The big problem comes down to time. As teachers we all feel the crunch at certain times of the year and it's sometimes hard to jump into something new when the year is already underway. However, in the words of the Merovingian "But then if we never take time, how can we ever have time". So there in lies the problem…
Research
I read a lot of articles, spoke with many fantastic #Cohort21 folks, and listened to the group I was trying to serve. In speaking with Justin and Garth before our first Face to Face I saw that @jmedved has blocks of time scheduled throughout the week to meet with teams to explore new ideas and successes among many other things. @gnichols has a comprehensive Google Site that is a menu for teachers to explore best practices. I really like the idea of "Just in Time" PD which came from an article about Crafting the Next Generation PD Model.  The idea that building in time for PD and having the resources to do it is important. They must have spoken with @jmedved!
Edsurge.com came out with a great crop of articles moving away from a "One Size Fits All" model and into a more Personalized approach to PD that Empowers Teachers.  This particular resource walks you through how to move from Pre-Fab to Personalized PD. At the end there are a wealth of other articles that explore #fieldresults, #tools and #getting started.
In February I found Building the Basics of Personalized Learning I & II which starts with what teachers are good at, what they want to improve, their interests and constraints (what's happening in their personal life). I think it's important to consider the constraints because if we can't empathize with the learner then success is unlikely.
Edudemic speaks to differentiating and gamifying PD for teachers. Something that @gnichols introduced earlier this year via a "Connected Educator Ninja Warrior Program" a badging system that introduces teachers to the C21 toolkit; which we quickly adopted at LCS.  Mindshift put out an article in 2012 asking "Can Twitter Replace Traditional PD?" to which I reply "…YES!"
In this phase, I think the most powerful thing that guided me in the ideation of creating a prototype for PD at Lakefield College School was by Sabba Quidwai.
"We don't want to tell you our vision for 21st century learning, we want to show you! We want you to feel it and experience it for yourself so you understand the level of excitement you can bring to your classroom." – Sabba Quidwai
 Stay tuned for the ideation piece… this blog is getting too long! Please share any resources you think would be useful in my journey in the comments.