When Lakefiel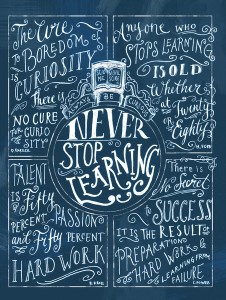 d College posted a job for a Technology Integrator to help support teachers in our transition to Mac computers, I immediately wanted it. Having done Cohort21 I felt I was well equipped for the role but what most excited me was working with teachers, and seeing what they are doing in the classrooms, as well as inspiring some to try new things. True to form, learning from others has been the most positive aspect of my role to date.
@Brenthurley and I share the role and this year we've implemented a variety of new Self-Directed PD Initiatives. We've adapted @gnichols Connected Educator Ninja Warrior Program; we have over 15 staff who are currently working their way through the
belts. We've implemented a Cohort21 inspired PLC where we've introduced teachers to the #Toolkit and the frameworks for integrating technology; for which we have over 16 staff who signed up but a core group of 9 has emerged. We've introduced Socrative, as the Evalution piece in the Five Es of the Learning Cycle. We introduced Doctopus and Goobric paired with Google Classroom to work with timely feedback, and Edpuzzle to address the Chunk, Chew, Check when introducing students to new concepts in a flipped classroom, and many more!!
There have been many highlights this year with people doing amazing things but most recently Lorraine Brown – a Modern Language and AP Eng Lit teacher at the school was looking for a way to help her students critically reflect on their performance in a Harkness Discussion but also wanted them to strive for deeper understanding and critically analyse the discussion. After a brief chat, we agreed that Edpuzzle might be what she was looking for! She had recorded her Harkness Discussion and used Edpuzzle to pose open ended questions to deepen their understanding and really made their learning visible… to them! She placed the questions at manageable times in the video in order to chunk the information and give them time to chew, then checked their responses via the back end of the teacher Edpuzzle dashboard.
She was so impressed with the depth of analysis and deep understanding her students displayed when they were able to see their performance in the discussion. The self-reflection piece to this was key. Students received feedback throughout the process but seeing themselves in the video allowed them to take that first step in internalizing that feedback, and ideally helped nudge them along their path to lifelong self-driven learning.
This is but one example of the great things I get to see in my role as a Tech Integrator, and I am lucky to work with such inspiring educators.