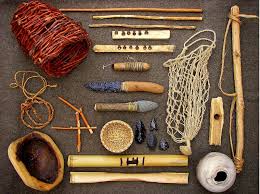 I've had the backbone of my action plan in mind for quite some time, but I was waiting for the right content to fill in the gaps, and my students provided inspiration for that content for me this week (just in time!)
Inspired by PD
After being inspired by a PD session at BSS last summer, I was determined to brainstorm new ways to use documentation in my classroom. Student photographs, quotations and sketches are displayed around my class, and student videos are published my classroom blog. However, the students have no ownership over the documentation, other than the fact that they are in it! Eager to get my young learners more involved in the documentation process, I was on the hunt for tools for them to use.
Then, in early October, I attended a PD session at Sagonaska School on using the iPad effectively in the classroom. The school has a focus on using technology to set-up students with learning difficulties for success. Throughout the session I was brainstorming ways that I could bring this back to my early learners. One of the points that resonated with me most was how accessible the iPad is. I hold the belief that effective practice for students who face challenges is effective practice for all, so I was excited about the tools out there that I could potentially introduce to my students. iMovie, in particular.
Inspired by the Cohort
At our second face-to-face session at Cohort 21, we were introduced to three models of looking at technology integration into the curriculum. The model that I feel most closely resonates with my program is the Technology Integration Matrix. Upon reflection, I found it surprising that as an advocate of technology in the classroom, and as an avid technology user myself, I mostly fall into the "Entry" and "Adoption" levels in my classroom. Occasionally the students have the opportunity to independently use technology while I facilitate (Adaptation), however, I feel there is plenty of room for improvement. For my Action Plan, I have decided to aim for Adaptation, Infusion and Transformation across all five characteristics: active, collaborative, constructive, authentic and goal directed.
Inspired by Ice
Knowing what I wanted to incorporate into my plan, I was stumped on deciding a topic or curriculum area to undertake this massive, uncharted project. Science seemed like the best fit, but inquiry topics that the students would be engaged in were not emerging. That is, until, this week! While heading outside to the yard, one of the students slipped on ice as he was coming out of the door. He enlisted the help of a friend, grabbed a scrap piece of bark, and they both started chipping away at the ice. when asked about what he was doing, he explained that he used his body to measure how far out the door swings, and used that to determine where they should chip away the ice, to prevent anyone else from slipping. Soon, almost the entire class joined in and I stood there amazed as they used these pieces of bark as fantastic tools to achieve a common goal. Also inspired by the level of engagement the students had in the book "The Most Magnificent Thing" by Ashley Spires, our new inquiry topic was established!
Taking Action
So, as of now, these are the stages I have plotted out:
Begin a student-led inquiry of tools
Lead the students through research, designing and building
Have the students document their process by using the iPad to take their own video and photographs
Coach the students through compiling their video in iMovie
Assist the students with narrating their film
Share with their peers
Receive feedback
Re-design, document and add to their final film.
Looking forward to more inspiration at the third third face-to-face and seeing where this adventure takes us!