As with past Face-2-Faces, I left the third Cohort 21 session at MaRS Discovery District so incredibly inspired! Not only was being surrounded by a building focused on innovation inspiring in of itself, I am consistently amazed by the fabulous ideas of the Cohort 21 clan! Thanks to their input, I have made some revisions to my Action Plan.
Narrowing the Focus
Taking the suggestion of a great Cohort 21 Coach, instead of taking a broad approach, I am going to be focusing on two facets of the Technology Integration Matrix: Constructive and Active. I believe these resonate the most with my iPad documentation project , as I am eager to have "students consistently have opportunities to select technology tools and use them in the way that best facilitates their construction of understanding" (constructive) and have "students understand how to use many types of technology tools, are able to select tools for specific purposes, and use them regularly." Although I am limited in my ability to grow to the Transformative stage for the environment, as the classroom teacher, it will be my goal to expose my young learners to the technology tools available to them, and guide them through the process of applying it to demonstrate their understanding.
Sesame HQ
Sesame HQ is a game changer. My initial plan of using iMovie to allow the students to produce a film of their learning would have been well received by my students, but as soon as I saw the capabilities of Sesame HQ, I knew that this would be a much more dynamic and interactive tool to use.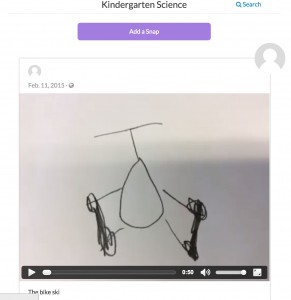 Each student only has one item in their feed so far, but I anticipate that they will all enjoy going back in time to see where they started! I also anticipate that they will find the app easy to use without my assistance once we get over some initial bumps.
Early Discoveries
I have begun this project with my students and here are some brief observations that I have made thus far:
My students think big! The scope of the project makes me nervous (for example, one student would like to construct a 'bike ski'), but also incredibly excited.
My students are not intimidated. They grabbed the iPad with eagerness and familiarity.
My students know what they want. When given the choice to record a video or take a picture, each SK happily selected a medium. I look forward to seeing if there are similarities in selections over time.
My students are inexperienced. Starting this project has opened my eyes to the importance of breaking technology-related skills down into smaller chunks. I immediately thought the SKs could use Siri to scribe their thoughts, but they do not yet understand the importance of volume and clarity in getting accurate representation. New lessons will have to be developed along the way – for example, tomorrow we will be playing a game that involves the SKs saying a sight word into the mic and having their peers tell them if they said it clearly enough to be written correctly on the Smart-Board screen.
My students really are 21st century learners! When I handed them their QR code to scan, no child thought it was unusual that this black and white scribble would lead them to something they could use.
I can't wait to see what these wonderful students are capable of!