Faire d'un pierre deux coups.
We have been working with design thinking at our school thanks to @Think_teach and of course here at Cohort 21. I felt pretty comfortable and enamored with the process, and had dabbled using it with my guinea pig class as a reflective assessment as learning tool.
At a Round Square conference I attended over the March Break, my student delegates dove into design thinking led by @dcdesignltd. The students from all over the world gained empathy as they listened to their partners' challenges through extensive interviews and designed a solution for them.
I decided to bring this back to my classroom.
Prior to the last few assessments being doled out, I wanted my FSF4U students to step back and reflect on what it was they wanted to accomplish before the end of the year, especially since this might be the last time they ever study French in a classroom. From previous conversations, I knew that for the vast majority of them, improving their spoken French was top of their list, if not a very close second. I was hoping that working with design thinking would allow them to use their speaking skills all the while working out possible solutions to getting oral practice. And it did!
The handouts from @dcdesignltd were so well organized that it took minimal prep on my part, just photocopying. I could look further into this and see which French resources exist because the questions were in English, although my students were at a level where they could freely express their ideas in French about the topic at hand.
The students switched roles during the interviews, gaining empathy for what fears and challenges their peers faced, all the while keeping in mind how they might help them.
The final part of this process was to design something to help their partner. I opened up my cupboard and took out supplies and tools for this part (note that this doesn't require anything fancy):
The students had 7 minutes to design a prototype which addressed their partner's needs:
They then presented to the class. Here are a couple of examples:
A headband which would link directly to WordReference in case the student forgot a word: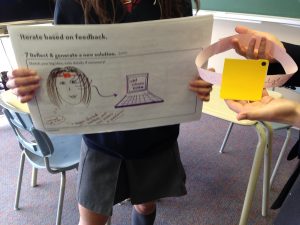 An attachment for a phone which would record the user's conversations:
The workshop was originally intended to last one hour, which makes it perfect to integrate into an 80-minute class. My students were presenting current events, though, so I spread it out over 2 classes. The only challenge then was that a couple of students were away the first day, so we had to figure out a time for them to make up the interview part. I wanted everyone at the same point to make the time management easier.
En conclusion, the students loved it. They had a great time discussing their ideas, having a definitive time in which to speak, and most of all, designing their inventions. I enjoyed the freedom it provided me to walk about and listen in on the conversations, the equitable discussion time, and the opportunity it provided for students to truly reflect on what their goals are for the rest of the year.
How have you used design thinking in your classroom?
Have you used design thinking for assessments of learning? How so?