I had the opportunity to present at Sterling Hall's "Character Education Unconference" this past Monday March 24th, sharing our journey so far with Blogfolios. If you ever have the chance to share something from your classroom with a group of educators: DO IT! Being able to just sort through this process in preparation was enough reason to put myself in this uncomfortable position. But then being able to get some feedback and bounce ideas off my fellow teachers was really the icing on the cake. It was the cherry on top that I could go with my incredible colleague and also see her present!
So where am I and where are these Blogfolios? Currently, students are about 2 months away from sharing these with their parents. Students have about 8 artifacts posted from throughout the year (I was hoping for a few more by this point, but c'est la vie) showing either a growth, challenge, or next step.
In two weeks, students will hopefully have a piece reflecting on their growth from the beginning of their debate journey to now, picking apart how they have seen their growth mindset (GM) develop (not in those words exactly, but this is where I want the students to go with their writing).
In May, students will be sharing their Blogfolios in small groups (or just one-on-one with their parents). It would be awesome if they were sharing these with their "support sister groups" (small "Tribes" style groups with high trust built since January), to all of the parents belonging to that group of 3 or 4 students, answering questions about their development over the year using posts from their Blogfolio as evidence of their learning and change.
But one major thing I'm noting about exploring growth mindset is that Blogfolios are just scratching the surface. Since Garth shared this Tweet out…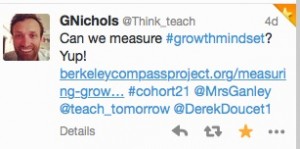 I'm now curious about how to embed GM into evaluation tools / rubrics. Where else I can be filming students to document change? How could documentation play a role in students seeing their growth and change over time?
That's the thing about growth mindset: you can never really be done!