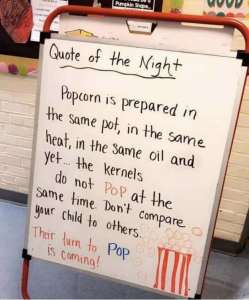 I saw this picture on Twitter about a year ago and it's been on my mind ever since. It was displayed outside of a Kindergarten classroom during a parent night. For the first four years of his life, I was constantly comparing my son to kids around him. I still find myself doing this from time to time but I'm getting better. Every time I catch myself comparing him to others, I now think of this sign.
I've also been thinking about this in the context of my students. It's very easy for all of us to compare students to their classmates rather than see them as individuals on their own unique paths, which can hurt our students. Early in my career, I taught a grade 11 math student who was a very bright math student but wasn't at the top of her class mark-wise. Years later I found out she graduated with a Bachelor of Mathematics from the University of Waterloo, specializing in Pure Math. I remember being surprised by this, thinking, "she was good, but not among the top 10 in her grade". After speaking with her parents (I taught her younger siblings also), they said one day it all "clicked" and she fell in love with the subject material. I learned a valuable lesson that day and I'm a better teacher today because of it, although I'm still far from where I need to be.
Does anyone else have a story like this? Do you have tips that have helped you to not compare students? Please share your stories/wisdom in the comments.
I'll leave you with a quote I found that resonated with me:
"There's no comparison between the sun and moon. They both shine when it's their time." Unknown Author
References:
Children Are Like Popcorn: Why Comparison Is The Thief of Joy