I have been lucky enough to teach the same courses (Grade 11 & 12 Chemistry) for my entire 15 year career, which may sound like an absolute nightmare, but I have seen it as an opportunity to refine my craft. Intentional reflection has allowed me to develop my courses and increase the quality of delivery with each passing year.  I continually work on understanding the material at the highest level, revise student materials to ensure their quality and try new techniques (cooperative learning, POGIL activities, inquiry-based learning) to improve student learning. My teaching career has been one big action plan in teaching Chemistry. Question. Reflect. Explore. Test. Re-Test. Repeat.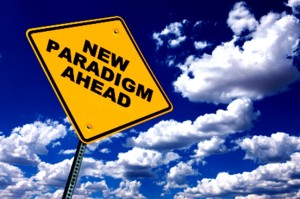 A few times in my career I have made paradigm shifts and there has been a catalyst. It was a Kagan conference that blew my mind and opened me up to the possibilities of cooperative learning.  The addition of POGIL (Process Oriented Guided Inquiry Learning) to my practice was sparked by a conference session. Teaching AP Chemistry changed my approach to teaching by allowing me to work as a Chemistry "coach" and has pushed me to place greater emphasis on inquiry.
My most recent paradigm shift was a BIG one. At the time, the questions I had about my teaching were: How can provide students greater access to my explanations without feeling like a broken record? How can I support kids who miss class? How can I get through more in less time (critical for AP)? How can I allow students more opportunity to practice skills and be available while they do so?  As a member of the AP Chemistry Community, I came across educator Jonathan Bergmann. He was touting the success he had been having with what he referred to as the flipped classroom (he it's pioneer!). Intrigued by the possibilities, I attended an online webinar he hosted in June 2008 and was hooked. By creating videos, Bergmann and his colleague Sams, flipped the conventional classroom. Rather than lecturing to students and asking them to do practice for homework, students were asked to watch videos for homework. In class, they spent time doing activities that allowed them to consolidate their understanding and work with their peers and teacher through a variety of activities. My mind was blown and my journey began: Flipped Classroom 1.0
Over the next two years, I developed videos for my courses, for every topic. It took commitment but I was determined and now have a full set of videos that students can access through their course databases.  On their own, the videos immediately answered two of my questions. I am available to students 24-7 for explanations and support and I no longer worry if students miss class (the onus is on them to get caught up). I refer students to the videos often and they take full advantage of them. Making the videos, regardless of the time it took initially, has paid dividends and in the long run has saved me time and energy.
In addition, in that first year, I flipped my AP Chemistry class, for one unit as a trial. I chose a unit (Acid-Base Equilibrium) where practice is critical and the topics build significantly on one another. In the past, the traditional lecture approach had failed miserably for students that didn't keep up with their homework. It was an incredibly positive experience for both me and the students. When they came to class, we reviewed some of the key concepts from the video, I answered their questions, modelled a problem or two and then they got down to work, practising questions. Not only were students more successful in the unit test, I was better able to assess their learning throughout the unit informally, by simply working with them one-on-one and in small groups. The biggest win wasn't apparent until it came time to review for the exam. Students had retained what they had learned to an extent I could have never imagined. The icing on the cake: they performed best in that topic in the AP exam. The cherry on top: it took less time then it did teaching traditionally! Bottom line: it worked.
So you might be thinking, it was so wildly successful, she must now flip every class, all year. The answer is no. At the moment, I flip two units in AP Chemistry, I flip sporadically in Grade 11 Chemistry and I use videos for a personalized learning unit in Grade 11. I am very intentional about when I do it. Students need to be motivated to watch the videos and I am not convinced they would be, for an entire course. I also think it has it's place. I love variety and think students do to. I am all about mixing it up, keeping things fresh; it keeps us all on our toes.
After a few years, it's time for Flipped Classroom 2.0. With the big job of making videos done, it's time to take a fresh look at how I use them. My Cohort 21 Action Plan is the perfect opportunity for me to take a step back and find ways to improve the implementation. What I am doing works, but can it be even better? My questions:
How can I better assess where students are at after they've watched the video? How can I personalize the follow up lesson depending on individual student needs? Is is possible to use gamification coupled with the flipped classroom in a personalized unit?
My plan is to do some reading about the Flipped Classroom and learn ways that other teachers are doing their follow up lessons. I want to try tech tools such as Zaption and Edpuzzle. Gamification may or may not be in the cards this time around but I will do some exploration before I decide. I am excited about the possibilities and open to new ideas.
Do you flip your class or thought about doing so? What has your experience been? What approach do you take on the follow up?