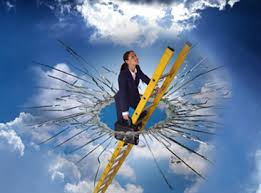 After the first Face-to-Face session, many people talked about feeling overwhelmed. We met  inspiring educators and were shown awesome tools. We were sent on our way to explore and connect. I think at the time I was a bit too stunned to feel anything. My mind felt flooded. In a good way. Twitter? Diigo? Google +? WordPress? I needed to sift through all of the information that I had gathered, and I wasn't quite sure where to begin.
I felt a bit stuck. I found myself reflecting more intentionally, searching for a blogging topic. What is unique about the way I teach? What tools do I use that work? What are the struggles that I have in my classroom? What can I share? My ideas became partially developed titles saved in my phone:
Renewing my faith in buzz words: growth mindset vs fixed mindset.
Flipping my classroom: when it works, it's beautiful.
Jumping over hurdles and through hoops in an attempt to implement technology.
Goodbye Facebook, Hello Twitter.
And that is as far as I got. "Cohort Blog" has been on my to-do list for a long time and has nagged at me, but I couldn't bring myself to log in and start writing.
What was holding me back? I told myself that I needed a lot of time to process. I told myself that I wasn't a strong writer and that it would be a tedious process to write it and perfect it before publishing. I worried about what picture I would include. I was concerned that I wouldn't have enough to say or that my thoughts were not important.
Then it struck me! I had a fixed mindset about blogging- gah!
I was avoiding the challenge. I was intimidated by the success of others. I feared criticism.
What I needed to do was change my mindset. And that I did. So here I am, putting myself out there. I am embracing the challenge. I am going to find inspiration in the greatness of others. I am going to learn from the criticism and persist in the face of setbacks. I am going to have a growth mindset about blogging.
I just needed to do it-to break the glass ceiling- to get the first one out there.
Glass ceiling broken. Whew! Here's to letting my ideas flow "up" into the blogosphere.
Is a fixed mindset holding you back from accomplishing something on your to-do-list? How can you change your thinking to help you to break through the glass ceiling?