Advising in a Personalized Learning Era
I have continued to make good successes in engaging students on their blogs. Currently, I have 98% of grade 7, 8 and 9 students on blogs, and 100% of advisers are blogging. But more importantly, we are discussing the struggles with the students that are reticent to blog, and with the whys and hows of blogging in general.
In my Monday meeting with my adviser leaders, we were discussing blogging, and one teacher brought up the difficulty in engaging a couple of her grade 9 boys with their blog. This fostered a few more points of how to get them to blog. What was really great was that it wasn't me who was first to answer; rather, it was other advisers. "It's a great thing for their eventual university applications", "It's a great scrapbook or the year to collect major events, photos and milestones too", and "It's a chance to think about themselves".
These are all great responses! It got me thinking about Marcie Lewis' action plan of creating a culture of colleagial collaboration. I think that this is a great indication of a positive culture within the adviser system. To this conversation, I also added, that meta-cognition and reflection are very healthy and positive habits of mind to establish – and that is my hope: that we are fostering character, mindfulness and resiliency in this way.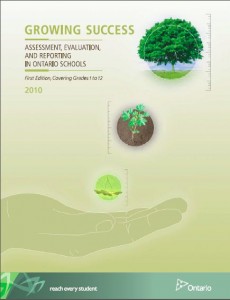 This then got me thinking of Melody Russell's action plan, and her post about Growing Success. Using the blog can help us capture those qualitative moments, those intangible moments of growth. They can be used as assessment as learning – how are students thinking about themselves?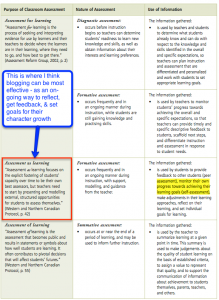 Another recent momentum builder occurred when I suggested to the Principal that I write a blog posting to explain how the adviser enhancing a personalized learning environment. You can read that post HERE.
So, as the term winds down, report cards have just come out. HERE is my blog post to parents on how advisers are encouraging students to think about how they learn and the strategies that they are employing to help them manage the good times and the challenging ones too.