As any parent knows, structure and boundaries with a child are vital, not only for development but also for sanity. My beautiful adopted girl, Aletheia, will soon be 20 months old. This past year and a half have been a blur of carefully organized and sectioned "time". Her Time, Me Time, Work Time, Sleep Time, Eat Time, Bath Time… you get the picture. Interestingly, all of this life stuff was happening around the same time that Rosseau Lake College was developing its new DISCOVERY DAYS inquiry-based and experiential learning initiative. Ironically, a think a few of these terms and conditions from my life slipped into our new student program!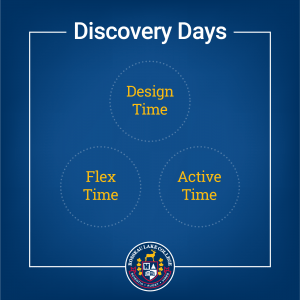 What is Design Time?
There are many styles of student inquiry, from highly structured to completely free and autonomous. Each is an entry point into personalized learning which can lead students to be intrinsically motivated, to achieve independently, and to continue 'lifelong learning' (Engelbert & Hagel, 2017).
The uniqueness of Rosseau Lake College's inquiry-based academic program, Design Time, rests on the idea that culminating knowledge does not happen in a vacuum, nor does it always happen at the end of a topic, unit, or learning sequence.
"Research shows that students perform better academically when given multiple opportunities to review learning material" (Terada, 2017). Knowledge is constructed and co-constructed through questioning, application, and reflection. It happens in conjunction with a teacher, with peers, and through self-guidance. The education model that was developed from this insight and aligned with our strategic objectives was a simple three-stage process, not dissimilar to the Design Process itself:
Discover. Learn. Adapt.
Instead of spending two weeks at the end of a semester quickly pulling together aspects of a rushed project, students at RLC spend the entire semester following their big idea questions through iterative discovery and prototyping stages. At any point along this process, the student may reach an impasse or gain interest in a similar topic based on their original idea. Just as in real life, they learn to adapt these ideas into new discoveries which then lead to further research and the eventual creation of unique end products.
Students keep track of their Discovery Project process using a standardized Google Doc planner divided into these three stages over the 12 weeks. Updates to the planner and weekly exit cards are expected.
With DISCOVERY DAYS happening every Friday, direct instruction is still able to take place during the week, which enables further linking of knowledge and skills gained from the classroom into the collaborative or self-directed Discovery Project.
What is Flex Time?
Just as the name suggests, Flex Time will be an adjustable component of our Winter Term and will have a variety of purposes. This year, the Flex Time program will be organised using mentor groups working on Passion Projects.
Many schools have opened up their weekly schedule to include time for students to engage in projects that are not marked and instead are aligned with student interests and pursuits. Some popular names for this type of program are Genius Hour or 20Time.
What makes RLC different amongst established independent schools is our small size. Vertical integration happens often and students find friendship groups from all grade levels.
RLC's mentor program has traditionally been an area where these inter-student relationships grow. This year we hope to strengthen this program further by having mentors and mentees work on Passion Projects together.
As a group, the mentors will facilitate a design process over 14 weeks. Instead of achieving marks, students will be assessed in their development of Future Skills (Teamwork, Information Management, Self-Management, Critical Thinking, Networking, Global Citizenship, etc.) (Ontario Ministry of Education, 2016). In the spring, RLC aims to host a Discovery Fair in which the most successful passion projects will be shared with the whole school and badges of Mastery in these essential skills will be awarded.
What is Active Time?
In the Fall and Spring, Rosseau Lake College benefits from its pristine location on the shore of Lake Rosseau in Muskoka. From the outset of its founding, RLC has aligned educational programming towards outdoor experiences. Active Time gives us the occasion for whole school immersion into our rich natural environment.
Requiring our students to experience the diversity of our unique location through swimming, hikes, environmental stewardship, canoe trips, and survival challenges, is a wonderful opportunity to advance the related importance of outdoor activity and well-being in the holistic development of each child.
In the Winter Term, Active Time becomes a block where both teacher-designed and student-designed specialty clubs can take place (Community Club, Boomwhacker Club, Culinary Club, etc). Although the form of these Active Time clubs can vary, the social-emotional aim is always the same: have a goal and learn skills to improve!
In the Spring Term, as the winter slowly begins to thaw, we will use Active Time as a space for arts and indigenous-themed events and host guest speakers, local and alumni entrepreneurs who can relate their experiences and run workshops regarding the concept of cultivating a Personal Brand.
I wonder what next great idea will come from my daughter… and yes, her future is so bright, she's gotta wear shades!