In its 50th anniversary year, Rosseau Lake College has launched a whole-school personalized learning initiative related to our strategic goals and mission: To graduate students with a strong personal brand, through a culture that is rich in discovery. After 18 months of development, faculty and stakeholder brainstorming, surveys and pedagogical research, the team iterated and designed an innovative approach to timetabling and program delivery: DISCOVERY DAYS are non-traditional days of learning (12 Fridays per semester) that support RLC's unique value proposition— Nature is Our Learning Lab; Discovery is Our Culture.
The three learning components of this timetable change: Design Time, Flex Time, and Active Time.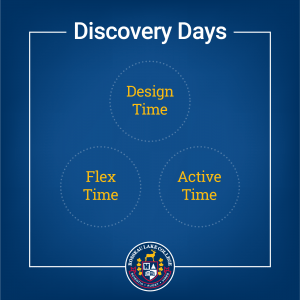 Together, these three mindset blocks incorporate a variety of current educational theories that foster deep learning while also cultivating personal passions and developing resilience in each student from Grade 7 through Grade 12.
Our Junior School (Grade 7 & 8) work together as a cohort, collaborating on multidisciplinary projects over the entire year. These highly scaffolded immersions into inquiry learning give younger students the necessary tools to continue this method of discovery in future years.
Both Middle School (Grade 9 & 10) and Senior School (Grade 11 & 12) vary in approach only in the number of projects they are required to integrate in a scheduled semester.
Utilizing proven inquiry-based education techniques such as Project-Based Learning (PBL), Design Thinking (DT), Question Formulation Technique (QFT), and balanced within an experiential framework incorporating outdoor and active learning strategies, DISCOVERY DAYS aims to develop a variety of academic and kinaesthetic competencies in an engaging and holistic manner.
HISTORY
When Rosseau Lake College was founded in 1967, it was symbolically modelled after two internationally esteemed independent schools: Geelong Grammar School Timbertop Campus in Australia and Gordonstoun in Scotland. Both of these co-educational boarding schools paved the way for experiential and place-based education while maintaining traditional values and academic rigour. Being located outside of urban areas and steeped in outdoor natural environments, both schools challenge conventional learning methods by allowing students an opportunity to experience small community life and learn real-world skills through local service and activity. RLC continues this rich tradition of values-based education in a unique small-community environment with our DISCOVERY DAYS.