When I was thirteen, my family moved to Birmingham England. My parents were teachers of the arts and we were going on exchange from a small rural community in Ontario to a city that was the heart of the industrial revolution.  It was, needless to say, an experience that was an outright assault on all of my senses.  In navigating my way through that year however, I learned a lot and became a keen traveller. On one of our first weekend adventures out of the city in our cramped little Renault hatchback, we got stuck going around and around the loopy roundabouts of a mess of merging highways known in Brum as 'spaghetti junction'.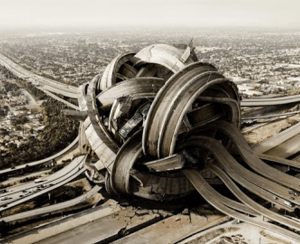 Ok, this wasn't it, but that's how it felt to thirteen year old me.  In thinking about one of the first questions posed to me for my Cohort 21 application: What does 21st century education mean to you?  I have often come back to that visual of spaghetti junction; a huge mess of interconnecting roundabouts, a merging of many pathways designed to get us going in the direction of our next adventure. This is where I am at in my thinking around 21st century education.  My thoughts are a bit of a mess, truth be told.  But here is what I am sure about, we are in the midst of a paradigm shift in education.  We are tasked with preparing young people for an uncertain future using tools that change so rapidly that it requires that we take on the role of learner and leader simultaneously.  Engaging with this shift requires a new mindset; new ways of communicating with our students, colleagues and our broader communities.  It requires a critical look at the balance of skills and content; our approaches to teaching and learning and the application of foresight in decision making.
In this, my first blog entry, I thought perhaps I could put forth some ideas and questions that have captured my interest in the hopes of connecting with others who would like to take the conversation further. This is really what brought me to Cohort; the potential to listen to, learn from and collaborate with like-minded educators with the goal of improving my own practice, and sharing with my colleagues.
I feel that the role of a 'teacher' is evolving to become more of a facilitator; What does that look like? How might I share that role with other 'experts' by leveraging technology?
How might I improve my creative confidence and bolster my confidence to take risks?
How might I prepare students to 'add value' in a world of smart technology?
It seems to me we need to invest more in the development of socio-emotional skills; particularly empathy; how might I leverage technology to build empathy?
So you see, I am at spaghetti junction; my thoughts are messy, but I know they are connected and likely to take me in the direction of adventure.  I am optimistic about the time I will spend within this supportive community investigating these and other questions; I look forward to connecting with many of you over the course of this (r)evolutionary experience!
"Please always remember, the secret of survival is to embrace change, and to adapt."
-Rohinton Mistry, A Fine Balance