Cohort 21 Wants You to Join the Conversation
The fifth season of Cohort 21 is shaping up to be one of the best yet. With thirty independent schools across Ontario registered to be part of this year-long professional development, this season already boasts a wide range of expertise, insights, talents, and resources from across the CIS Ontario map.
Over the course of the year participants will experiment with new digital tools and pedagogy, engage in online and face-to-face discussion about 21st century curriculum and teacher training, conduct personal research and share findings by way of an action plan blog, and impact the development of ed-tech startups at one of the world's largest innovation hubs.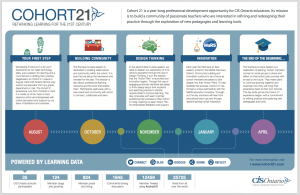 Now in its fifth iteration, Cohort 21 is an established community of educators and administrators.   Member blogs and action plans not only invite readers into classrooms in real-time across the province but also capture the unique culture of our member schools and highlight teacher excellence for which our schools are known.
Cohort 21's deep databank of best practices, research, tools, and partnerships can be accessed via multiple platforms. Follow the conversation this year on Twitter with #Cohort21. Blog posts can be accessed at the Cohort 21 blog archive as well as the CIS Ontario teacher Job Search page. Browse through Cohort 21's catalogue of projects and connect with industry experts on topics that range from makerspaces, redesigning PD, badging and curriculum, project-based learning, gamification, and design thinking, to name just a few.
Join the conversation.  We want to hear from you!