A Case for Twitter in the Classroom
In a world that is drowning in technological gadgetry and never-ending software updates and webtools that promise the newest and latest 'must have' for educators, it is refreshing to be reminded of the merits and reliance of (now) steadfast applications.   Twitter continues to surprise me as an ed app in its reach and breadth in creating real-world learning opportunities for students. When used sensibly, Twitter can open up possibilities, otherwise inaccessible to our students.
For those of you still pondering the merits of Twitter and its place in the classroom, I'd like to share the following stories.
 1. A Novel Approach
A number of years ago, an English department colleague, along with her grade twelve English students, examined an excerpt from the novel The Book of Negroes by Lawrence Hill. While engaged in the creation of a media project, the class broke into an impassioned debate about the author's adaptation of the novel to screenplay and his input on the casting selection for the upcoming CBC TV series.  The class was divided, until one student decided to reach out to the author to settle the score.   140 characters shot into cyberspace as the student tweeted her query to the The Book of Negroes' Twitter account.  Within minutes her tweet reached Lawrence Hill who followed up with a detailed email to the class addressing their questions about his artistic choices.   Students buzzed with excitement as Mr Hill fielded their queries.
My experience was that using Twitter intrinsically motivated my students, because it provided them with an audience, which engaged them on a different level. I know some students tweeted writing ideas and joined writing workshops and circles to get quick feed back and ideas from "the real world". I have used [Twitter] for writing prompts and journaling, too. We also followed some famous writers and my ENG3U class contacted Miriam Toews via Twitter and she responded in a detailed email answering all of our student generated questions about her novel A Complicated Kindness. When students see that authors are listening and care about what they have to say, it stimulates them. One of my students created an amazing art piece for The Book of Negroes and the publisher, Harper Collins, Twitted it and tagged us!          Marsha Chausse
2. Teacher Validation
Another story of authentic validation, but this time for teachers: Just today, I received the following 'feel-good' email from another colleague in the English department about the simple yet meaningful impact that acknowledgement provides.
It was a pleasant surprise to see the "The Pulitzer Prizes liked a Tweet you were mentioned in" show up in my Twitter notifications.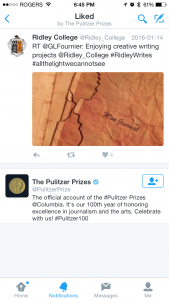 A few weeks ago I had posted a photo of one of my senior English student's creative writing project that was inspired by Anthony Doerr's All The Light We Cannot See; this was re-tweeted on [my school's] Twitter account. Tonight I received a notification that The Pulitzer Prizes liked my tweet. (I didn't know that they had a Twitter account.) It is amazing to see the far-reaching access I have to pillars of the academic world via Twitter. This is a space where the Pulitzer Prize people can reach over and tap a teacher on the shoulder to validate what happens in her classroom.                         Gillian Fournier
3. Social Mobilization
This past December 10th (International Human Rights Day) our student Amnesty International group hosted a school-wide write-a-thon in support of Amnesty's #Write4Rights letter writing campaign. Throughout the day, students and faculty wrote letters to diplomats, Presidents, MPs, and Prime Ministers in support of Amnesty's vital human rights work. Students tweeted and instagrammed their efforts in hopes of spreading awareness and encouraging others to pick up a pen and write a letter.  Amnesty's hastags #Write4Rights and #W4R allowed students to connect with other activists around the globe, further fueling discussion and debate in classrooms and online about human rights violations worldwide. Later that night, Alex Neve, Secretary General for Amnesty Canada, hosted a live twitter chat. Students connected with other youth groups as well as Amnesty Head Office and participated in online debate and discussion. Hashtags allowed students to follow the progress of the campaign and see the fruits of their labor. Amnesty Canada was quick to share and show support and recognition of student efforts through retweets and responses.  Momentum was palpable throughout the day and students saw tangible evidence of the power of words and unified voices to make change.
In all three examples, Twitter proved to be a transformative teaching and learning tool.  It gave students and teachers access to an authentic audience, opportunity for meaningful recognition, and a venue to connect with others and share ideas. These experiences are incredibly gratifying and affirming.  Classrooms are no longer defined by brick and mortar walls. They can exist anywhere and emerge at anytime. Twitter can transform and heighten learning environments and experiences in innumerable ways. Whether it be creating classroom accounts, joining or hosting Twitter Chats, or building a Professional Learning Network (PLN), Twitter has far-reaching benefits for the world of education. Twitter can be the conduit that connects and channels ideas across the globe, and gives us access to what might be the largest classroom of all.