Digital Trails and Identities: Helping Kids Stay Safe Online
As with all new advances in communication, we need to ensure that our students are given every opportunity to use and enjoy the gifts that technology provides, but remain in control of how they use it so that they are not exploited by it.
As technologies continue to emerge and advance they inform our students' experiences. We, as parents and educators, must be sensitive to this digital revolution, and aim to teach our children how to harness the energy rather than be swept up in it.
As students tweet, blog, facebook, instagram, etc., we must help them understand the dangers of over-sharing, of cyber bullying, and of revealing too much about themselves when online.
Earlier this academic year, I invited Mr. Paul Davis from Social Networking Safety to my school to provide age and grade appropriate presentations to students, teachers, and parents about the potentials and perils of social networking sites.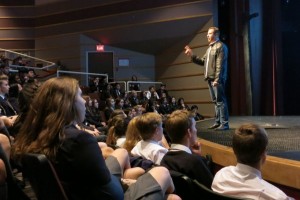 Over the course of his two-day visit, Paul Davis provided 5 tailored sessions to the entire school community.  Topics covered included the (intentional and unintentional) creation of digital trails, curation of digital identities, data mining, updates to provincial law and the legalities of creating and sharing explicit content, and understanding the "veil of privacy" when online.  Sessions were no-nonsense in approach and filled with compelling demonstrations exposing just how easy it is to track online behavior, access (presumed) deleted content, and manipulate personal accounts to gain access to sensitive information.  These sessions were followed by simple strategies for how to remain safe online.  Below are highlights and take-aways to help students (and parents) determine when to go public and when to remain private with their online content.
Facebook: Keep private. Maintain real contacts and friends, only. Check security settings every 90 days.
Instagram:
Personal Account: Keep private.
Instagram Professional/General Interest: Open.  Consider disabling location identification on photos.
Twitter: Open & Searchable
Ensure your twitter account is an accurate reflection of who you are. Never tweet immediate reactions or heightened emotions.
Snapchat: Read the new & revised Terms of Service as of October 2015.  (Between 10% – 40 % of high school students admit to having sent at least one inappropriate image.)
ASK.FM: Delete!
Learn how to delete accounts: www.idelete.me
Find Your IMEI # on your cell/smart phone and record in case phone is lost or stolen: ( * # 0 6 # )
Grade 12 Students: Consider opening a LINKEDIN account (www.linkedin.com). Do not link it to your Facebook/Instagram account. Professional contacts, educational history, and employment history. Make it searchable.
Google yourself every 60 days. See what anyone looking you up will see, and address it as you see fit.
Passwords: Separate passwords for every device.  Write these down in a book that never leaves your home.  Never have records of passwords stored on your device.
Sexting: This behaviour has moral, ethical, and criminal implications (Section 163.1  of the criminal code). Parents: know that if your child is 17 years old or younger, YOU OWN THEIR DEVICE. This means that you are responsible for the behavior and content associated with that device. Responsibility shifts to the child at 18.
Parents and teachers of Lower School students, more sound advice to take on board:
1. No technology in our bedrooms … ever!  It cannot be consistently monitored.  Children are most vulnerable to online predators after 9:00PM.
2. User Agreements of many apps and sites indicate an age restriction.  E.g., you must be 13+ years old to have a Facebook and Instagram account.
3. Outsmart the bully if you are being cyber bullied:
Never respond back.
Print out everything you can and give to a trusted adult for evidence.
4. "Tell the world where you HAVE BEEN and what you HAVE DONE. Not where you are going and what you are doing in real time."
5. Gaming: should be done in common spaces in the home.  Know "who" your children are playing with online (many on–line friends are STRANGERS)
"know" what games your kids are playing
content of most popular games (Call of Duty, Grand Theft Auto) is rated for age 17+
ESRB.org is an on-line app that reviews games. ESRB "assigns age and content ratings for video games and mobile apps, enforces advertising and marketing guidelines for the video game industry, and helps companies implement responsible online and mobile privacy practices."
6. Know chat lingo. Netlingo.com describes the most often used tech and text acronyms (eg: PAP = post a picture)
7. Youtube: Watch what your kids are watching AND disable the "comments" section so that inappropriate posts are not available to be read.
For more information about Paul Davis and his vital work please visit: http://socialnetworkingsafety.net  You won't be disappointed.  We look forward to his return next Fall as we continue to explore and understand the impact social networking can have on our privacy and personal lives.
Paul Davis brings with him over 25 years of IT knowledge and expertise. In addition to speaking with students and school administrators across Canada, Paul has worked closely with the Department of National Defense, the RCMP, and the Ontario Provincial Police. He has appeared as a guest speaker on Global News and CTV News.