Nothing ever goes as planned, and that is why we teach.
Think about this statement for a second. Isn't that what teachers do, don't we create lesson "plans"? Don't we try and structure learning so there is proper scaffolding of knowledge and skills in developmentally appropriate methods of transmission? Isn't this the reason we became educators? Because the world doesn't make sense and we are here, dammit, to help children make some sense of it!
If I dig deep into the psychology of it all, I would probably find some truth to that. Am I teacher because I secretly want control over aspects of my life I can't control? Am I a teacher because of something lacking in my own upbringing that I want to correct? Either I was great at school and therefore never left, or I had a learning disability and now want to share my experience so no one has to struggle again.
Maybe you are one of those noble few who was so inspired by a teacher in your life you just had to join the profession, to keep the flame going. Or maybe, like me, you come from a family of teachers and this profession was always going to be the "backup plan".
No matter the reason, at some point you will have come up against this great irony of education, the perennial bulwark: nothing ever goes as planned! And it affects all of us at some point in our career, whether you are a messy person or a clean person, a cat person or a dog person, a Beatles fan or a Rolling Stones fan. We have all reached that moment of saturation when your To-Do List needs a To-Do List.
All I can say is, thank god we are teachers in the 21st century! Whereas this statement in the recent past would have been swept under any available carpet out of shame (for some reason I'm thinking of those oval cord carpets from the 70's), now, it is not only par for the course, THIS IS THE VERY DEFINITION OF TEACHING.
The reality of the classroom these days is, there is always something or someone going to undermine all of your carefully crafted secret plans.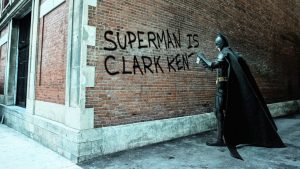 Learning to surf the process of discovery, to embrace happy accidents along the way, is a 21st-century skill, for students and teachers alike. Being flexible enough to adapt strategies quickly, resilient enough to hear criticism as constructive feedback, and transparent enough to admit you don't always know what the end dismount of that wave looks like; these are qualities far more cherished and sought after these days than a perfectly designed syllabus.
I have had the recent experience, as Academic Director at Rosseau Lake College, to witness the joy of disorder first hand. After working tirelessly for the past 18 months on developing our new whole-school, inquiry-based learning initiative called DISCOVERY DAYS, the launch day finally came this past September 29. After spending much of the last year and a half living comfortably in the Simon Sinek "WHY", I had to shift gears very quickly to consider the Grant Lichtman "HOW". It's one thing to imagine what a non-traditional progressive approach to learning might look like— changing timetables, training teachers, building learning spaces, reading books and blogs, edu tweeting— it's another to organize 100 students and 16 faculty for an entire morning of informative-yet-growth-mindset building activities. And then it rained. Actually, for the purposes of this analogy, it poured. Students were wandering around not knowing exactly where to be, or how to stay dry. Teachers were out of their element, facilitating a group of students that weren't necessarily their own. The concept of a "How Might We…? question was met with raised eyebrows and blank pages. Some got it, some didn't. Questions abounded.
But here is the beauty, the cherry on top, my fin de siecle. A crucial part of the Design Thinking process is built upon questions that don't require answers, which inevitably leads to a foundation of failure. Failure, in fact, is at the very core of modern learning. We must fall down in order to get up. We must make mistakes while we prototype. Our plans must go awry.
Organized chaos, then, is that sweet spot of engagement that every teacher yearns and learns to conduct. When the noise level of your classroom is peaked, not with dissent, but with interest. When the questions just keep coming, not out of desperation but out of curiosity. When technology breaks down and your lo-fi solution produces even greater results because the shared experience is more vital. When co-constructing curriculum with students produces an idea you could never have planned for on your own. When what you have created has become something more than you could have possibly imagined and you know the next crucial step in your journey is letting go.