The last post? Sound the trumpet? Maybe, maybe not. I don't see this as the end of the beginning but rather as the end of an action/reflection process that is part of a much longer journey.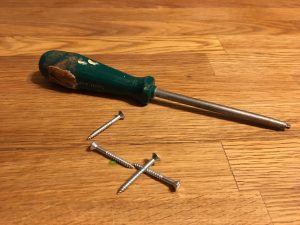 This image helps to remind me of something we talk about as we evolve our programs – each step we take represents a quarter turn of the screw. The current turn is related to and informed by the previous turns and will relate to and inform future turns. The Cohort 21 collaborative opportunity aimed at helping us to wrestle with a "How might we…?" question has been such a turn. My question – "How might we… use a variety of strategies to engage all learners and to build creative confidence?" – grew out of a desire to add a new strategy – inquiry-based learning – to a collection of strategies we have studied and applied to help our students. The images below give a sense of it…
We started with the curriculum, then sought to tackle that through UBD-based planning. We used ideas from project-based learning theory, iTHINK training, thinking about differentiation, and our reading and research about STEM education to craft our iSTEAM program. We collaborated, reflected, talked, modified, took two steps forward and one step back, consolidated until we had a pretty tight program for our students in Grades 6-8. It featured a steady increase in expectations from year to year and within years. It featured a matrix of content and skills and experiences. It included a set of well-organized tasks. And yet, it seemed not quite enough. Students in younger grades were working at inquiry-based learning. A question was asked, not unkindly, at a meeting, "Is this task not simply generating umpteen versions of the same thing?" Queasiness ensued. There might be something to that… So, off we went to some great training on inquiry-based learning. Now the question was, how do we integrate that into our program. This is where the Cohort 21 opportunity came in. We would try to integrate inquiry-based learning opportunities into some of our work in order to engage more learners and to build their creative confidence.
What worked? Well, lots of things. A little survey told me that students were ready for more risk but still wanted some structure. That led me to suggest that we take a quarter turn approach and add more options to our work. Each project would be challenge by choice. For example, in Grade 6 science students were given the choice to build a simple electric car out of a set kit of materials or to use littleBits, Sphero, or Makey Makey kits to design a new electrical vehicle or device. We had a few perfectly nifty standard cars but a range of other products including a house that had a light and a cooling system, a dual purpose keyboard, and a Sphero-based vehicle that aimed to fetch a bowl of cereal. Many Grade 7 students built strong conventional bridges but some used their knowledge of structures and building to create prototypes of a biodome for settlers on Mars and a building meant to withstand the force of a tornado. Grade 8 students looked at the properties of standard and non-Newtonian fluids and were encouraged to test any property of either type of fluid in any way they chose, as long as we had or could fashion the proper equipment and testing environments. They designed collision barriers and protective sports gear, broke water into its constituent parts using hydrolysis, and looked into differences in density. Pictures? Reflections? Not this time around – it was a little exciting in the lab as we were sailing in uncharted waters in each class, urging students on, holding them back, turning a blind eye, avoiding blinding… It was seat of the pants flying at times, messy at times, exhilarating and inspiring all the time! Was it hard to do all at once? Yes – sober second thought might have led me to focus on one grade. Smarter people than me suggested it in their out loud voices. Well… go big or go home!
What didn't work? A little foray in social studies was spectacularly unsuccessful. It was too open ended and the students did not have enough key information to "find their passion." More teaching and discussions would have helped the students go madly off in all directions more successfully and confidently!
What didn't surprise me? I was not surprised that lots of students really jumped at the chance to try something different. The fact that lots of students did not take this chance did not surprise me either. As with any learning community, our school has lots of different learners, many of whom still need lots of structure and coaching through their middle school years,. The challenge for teachers in this type of situation is to figure out how much of a nudge toward the risky options one should give.
If I had to do it all over again… I might like more time to plan things out. But maybe not, Maybe it was time to take off the training wheels and wobble into the future.. or a scraped knee and elbow.
What's next? I've got to figure out the social studies flow and timing. Maybe I will borrow the science framework of offering up a straight ahead task along with the option to follow one's nose into something more interesting… As for science, more of the same, but I will wait and see what the younger students coming in bring to the table as experienced veterans of inquiry-based learning. Overall, I need time to reflect, talk things over, and consolidate a few things.
Here is a link to my Action Plan Slide Deck – I know, I know, it is long and wordy. A colleague has suggested that I get paid by the word. To quote Popeye, "I yam what I yam!"
Thanks to colleagues and students, members of this learning community, and people at home for helping me along this stage of the journey.