Last week I had the opportunity to present my Cohort 21 experience back to my St. Andrew's College colleagues. Over the year I've had many informal conversations, but I know that there were plenty of teachers who were still unsure what Cohort 21 was really all about. It was fun to integrate some of the useful and fun tools Garth and Justin shared with us, such as Padlet and Kahoot! And it was a chance to use some tools myself!  I used a Google presentation to present and to be able to share the links.
The feedback I received was overwhelmingly positive and the conversations I had were fantastic – a lot of great dialogue has begun!
Immediately following my presentation, our ITi team, led by Melissa Ramon, introduced the concept of Twitter to create a PLN. Melissa and I, and a few others had been talking about this all year, and knew that it would be a tough sell for some of our colleagues. We had to introduce it properly and really show people what an amazing professional tool Twitter can be. Both Melissa and I had been intimidated by Twitter when we first started out, and I know I was really not keen to get on, so we shared our common experiences and hoped it wouldn't be too intimidating!
Here is one of Melissa's favourite Twitter quotes: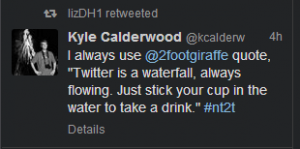 We broke into 3 self-assigned groups: Beginner, Intermediate and Expert. I gladly, took the beginner group. After a quick tutorial about some of the Twitter language, we spent most of our time creating accounts, troubleshooting and having fun following each other. I think the first dip into the Twitter pool was a positive one for most of them.
After the session, Melissa and I had a quick debrief. Our next task is to keep people motivated, connected and growing their PLN. When we return to school for PD in August, we need to figure out a way to reignite the buzz, but not to push too far... something to think about over the summer.
Now that my year with Cohort 21 has officially come to a close, other than keeping in touch with my fellow Cohorters, I have two more exciting things on the horizon:
I'm heading to Boston for the BLC2014 Conference in July, where I'm hoping to continue on the theme of teaching and learning in the 21st century.
I'm starting out to become an "expert" in collaboration as part of SAC's Expert in Us program. Over the next year I will be learning about collaboration and then for the 2015-2016 year, I will be sharing my expertise with my colleagues. Any conference suggestions, readings, etc. would be greatly appreciated!
Now, to relax and enjoy the summer! 🙂