Here's a quick update to my last blog post ("You Can't Handle The Truth"), where students in my grade 12 English class are working on a summative evaluation that gives them total choice on the content and form of their ultimate summative evaluations.
Today is Monday. Presentations/Assignments are due on Wednesday. Using Google forms as an entry ticket to gather data on where the students are proved to be an invaluable tool this morning. This data impacted the direction of my class, helping me determine who I should be conferencing with and who had a comfort level with their plan and next steps. When given a chance to ask me a question about the assignment, most students instead asked questions on unrelated topics.
So, what are my expectations for Wednesday's due date? I have three students giving oral presentations out of 16. I know that students will want to conference some more, likely outside of class time. We have spent a great deal of time reviewing and building the rubric for this assignment (using a shared google doc and curricular expectations). I guess my expectations are that students will enjoy the process of putting together their summative evaluation for this unit to a greater degree than had I asked them all to do one type of an assignment, all on the same stories.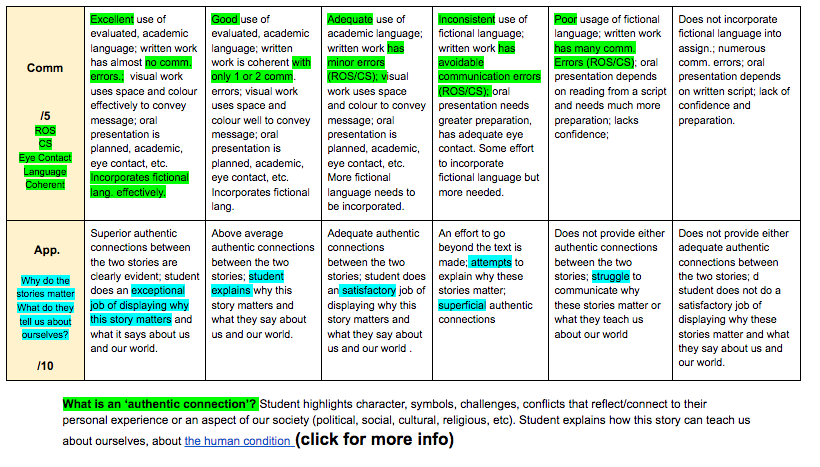 Again, my questions remain:
will the quality of student learning be enhanced because they have been given so much choice?
does an emphasis on authentic understanding and application make a difference in their success?
what will my students remember about this assignment and these stories one year, five years, or ten years from now?
Only time will tell. Until then….