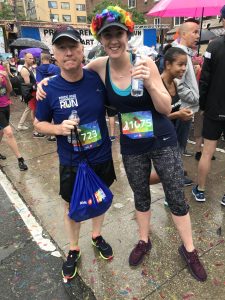 Welcome to the second episode in the teachers who run mini-series. Today I talk to Tim Somerville about  the many surprising overlaps in his practice as both a teacher and long distance runner.
Tim Somerville is a grade 8 science teacher, an accomplished marathoner, and a very witty person to get to talk to about both education and running. In this conversation, Tim opens up about so much more than just how he trains and his teaching philosophy: we dig into the nitty gritty of how important it is to go easy, sharing goals with our students, using data intentionally, and the benefits of finding your tribe…in both the classroom and on the road. If you are not a runner, after listening to Tim talk about his two passions, you just might find yourself lacing up and heading out the door for some sweaty inspiration before you teach next.
Let's get to the starting line of my conversation with Tim Somerville.
My hope with this mini-series of teachers who run episodes is not that you will become a hardcore marathoner or even go for a jog around the block, but that you might see how important it is for you as a teacher to do something that you love that fulfills you outside of the classroom. Teaching is all consuming and at times relentless. When you have that thing that keeps you existing outside of your marking, to do lists, and lesson planning, I believe that we all become better humans and our students benefit immensely.
There were many quotable moments from this show today, but what stands out to me right now is the idea that you can't keep running alone and we can't keep working alone. So open up your door, find others to invite in, find your fellow teaching nerds, and let's get better together. You can find me on the socials on Twitter @teach_tomorrow and on Instagram @teaching_tomorrow. That's all the time we have for today folks, enjoy the process by going easy and remember we are teaching tomorrow. 
SHOW NOTES from this Episode:
http://ajjuliani.com/