Hello again,
Long time, no blog, eh? I suppose I've got some catching up to do. However, that can take a backseat to this awesome piece of news I have. For the past year, I've been pioneering the use of Memarden, a customizable, game-based lesson creation website, in my French class. I was actually first introduced to it through Cohort 21 at our F2F session at MaRS in 2014, and have been working with its founder Ramesh ever since.
Memarden allows teachers to create lessons that students can review, test themselves on and play games about in the comfort of their own homes. More importantly, all the student results are reported back to the teacher in easy-to-read charts and graphs. Feel free to check out its website using the link below:
The students in my classes really took to the games, especially when we played them as a class on the Smartboard. There are a variety of games to choose from such as the cathartic Cloud Blasters which has players trying to shoot the cloud with the correct answer and the frantic whack-a-mole game Holey Moley. All the games are fun to play and offer a challenge to players of all skill levels and abilities. Some of them are also extremely addictive!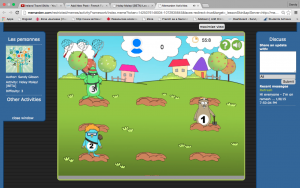 Holey Moley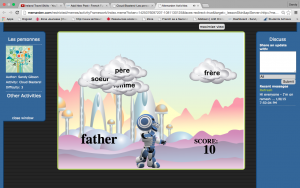 Cloud Blasters
Over the course of the year, I saw Memarden go through many changes. Students can now create lessons which can be made available to the class, pending teacher approval, and Ramesh is constantly developing new games and features. Memarden has been tweaked and refined to the point where Ramesh has started offering licenses to schools. These licenses usually go for $40/year for every 40 students, but Ramesh is offering it to Cohort 21 members for only $20/year for 40 students. I realize that sounds like something out of an infomercial but when you consider all that you get – customizable lessons with text, images, sounds and videos with the ability to see your students' progress – it's a pretty sweet deal. Also, I receive absolutely no commission aside from the satisfaction that one more educator is  teaching and assessing their students in an engaging and creative manner.
If you'd like to learn more about it, feel free to contact Ramesh at [email protected]. He's an awesome guy with plenty of passion and technical experience to match, and he'd be happy to talk to you about the website. You could also tweet me at @sandmang24, leave comments below or send me an e-mail at [email protected].