I need to break up with my action plan
Of course I enjoyed our third face to face at MARs but I did not leave feeling the same, yes the full brain feeling buzzing with ideas remained, but I had a rather discontented, pit of my stomach, something is not quite right feeling.
I phoned my husband on the way home and I tried to explain how I just don't feel my action plan  is "action-plan-able" and I think that I need to move in a different direction. He makes his living having people explain an idea and transforming that idea into a visual representation (he's an illustrator- see here if you want doodlemachine.com ) so he is well equipped to understand my attempts at explaining. He tried to understand my discontentment but we ended with "I don't know it sounds good."
As I continued on my drive home. I thought back to a conversation I had with Danielle Ganley @MrsGanley on twitter, in which she talked about her own action plan focused on collegiality and collaboration and we wondered aloud about an end point, where trying to get to exactly,  if could it be measured, and wondered if it needed to be? …maybe not but if not is it an action plan?
I went back over my workbook and I realize I hit a wall…If you look at my workbook from the last face to face it starts well and then…it is lacking, the margins are filled with names, twitter handles, ideas, and other things but the spaces to write and reflect on my action plan are well…blank.  What happened….I think what I am doing has value, that I am doing it and will continue to do so but I don't think it is the right direction for an action plan and here is why.
 My action plan was about trying to instill independence and I realized that I am independently trying to instill independence. I am feeling the same frustration my students feel, I will feel it every year and that is not only ok, but it is a good thing as it will keep me mindful of their journey and the importance of the struggle (Well done Cohort21 leaders for placing me in the mindfulness group!) I will continue to document the struggle for myself and to share with parents and interested colleagues. 
…. my "old" action plan is no longer an action plan more than a thing I do….so what is my "new action plan"
New Plan
Here is what I'm thinking. I still want to foster independence but I would like to show my students how their actions can do big things. To accomplish something big, combine their ideas, work hard, and solve big problems. I give them little challenges all the time and they love/hate them but I want to go bigger for this. 
I do great things in my classroom, but sometimes these things are hard to explain or show to others, especially those who are not familiar with PBL and inquiry based learning. Parents of my students have blogs to look at and other updates but these are not accomplishing the goal of communicating what is it that we are doing and why it has value.
So here is my new idea:
How might I use technology to document the process of a large cross curricular project, so that our exploration, inquiry, and results can be shared with others to make visible the depth of learning and value I know these efforts have.
To accomplish this I thought I need to pick one big project that I feel passionate about and that has a lot of opportunity for learning, to focus my efforts on, which why I limited the statement above.
I want to plant a garden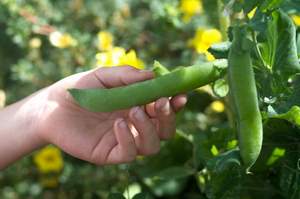 I have had this thought for a while. (Let me preface this with the grade three curriculum includes the study of plants so I not completely off base)
But I do not have a green thumb,  my gardening thumb would be dry and shriveled. The cactus on my desk is dead. The kids know this and already feel that they will need to teach me something about growing plants.
However, I love the idea that of kids creating a garden and doing something with what is grown. (I have other ideas but I am trying not to impose them on the project).
I want the kids to plan, problem solve, propose, and do all of the "heavy lifting". To create a "community garden" at school.
I want to have my students do something big, that they can see, that makes a difference (in some way) to them, and that they can say they did it on their own.
I want to use technology to show parents, admin, whoever will watch the value of open ended project and what the children can do when they are given independence and opportunity to make choices. All of the stuff from action plan one meets action plan take two.
…I think this might be "action-plan-able".