We have had an amazing week in Grade 2.  I received an email from our Advancement Department earlier this week, asking if they could film a project that the Grade 2 students had been working on since September, for CHCH Morning Live.  They wanted to highlight our project as an example of academic excellence.  WOW, I couldn't believe it.  We work at a fairly large school of approximately 1200 students, and they had chosen our project to highlight! My teaching partner and I were ecstatic.  What a wonderful way to celebrate the efforts in our classrooms. Click here to see the segment about our Mouse Library project, it starts at three minutes into the clip.
So let's rewind a few months, in August 2018, the last few days of summer holidays, I participated in a PBL conference held at Hillfield Strathallan College.  It is going to happen again this year, so check it out! To be completely honest, I had a rather closed mindset on the way to this conference. My husband and two daughters were enjoying the last few beautiful days of summer holidays out at our cottage.  They were going to build shelters to watch the Solar Eclipse, and I was headed back to school, early.  I know…terrible attitude!  I can redeem myself a bit by saying that closed mindset was busted wide open as soon as I entered our auditorium to view the movie Most Likely to Succeed.  It was shown as a meet and greet opener for the PBL conference.  I completed the conference, which was absolutely amazing, with an exciting project that I was eager to get started on once we all got settled back into the school routine.  I was hooked!
Then Labour Day hit and the kids arrived and the busy school year began.  We started planning our initial lessons on routines, expectations, and classroom learning tools.  Nothing cutting edge, or even anything that resembled PBL from my amazing conference, but I figured we would get to this project at soon as we established some routines and started to work on some of our Grade 2 skills. One of the lessons we have used for years has been very effective for our little Grade 2 people.  We read the Library Mouse by Daniel Kirk and gave each student a small stuffed mouse from Ikea.  The mouse serves as a visual reminder that sometimes we must be 'quiet as a mouse' in the classroom, and also, that we can do anything we put our minds to.  The Library Mouse is an author in the book, so we provided 2"x2" pieces of paper and mini pencils for our students to write a book with their mice.  Our kids were writing and the mini pieces of paper was an absolute hit with the children.  Even our reluctant writers were asking to write at every opportunity.  My teaching partner and I couldn't believe the motivation with using the tiny materials, why hadn't we thought of that before? We started to check off the list of things we wanted to cover in Grade 2.
Things got even more exciting when a student asked, "Where can we put our books so our mice can read them later?"  Before attending the PBL conference I would have probably provided a little plastic bin to set on our library shelf to house the little books – problem solved, done, moving on to next lesson that we had carefully planned.  THANK GOODNESS, the post PBL conference teacher in me, smacked me on the head before I could get out the bin and instead replied, "That is a great question, how do you think we could solve that problem?"  That part is key guys, not the smacking on the head part, but the fact that PBL jumped out and bit me, but I could have easily missed it entirely.  
My teaching partner and I figured they would come up with some sort of a shelf, maybe something that would attach to our existing classroom library, maybe spend a period or two building and designing. Another area of our curriculum we needed to cover, more checking off of skills. That little shelf idea turned into a 4-story mouse library, complete with; lighting, a fireplace, a laser cutter, 2 elevators, a rooftop patio, a computer lab, a mindfulness zone, a launch pad maker space, a snack zone, a gender neutral washroom, a maintenance shed, a living museum, and many other learning environments, not to mention the dozens and dozens of little books.  We spent approximately 3 months working on the project.  Everyday from that moment on we were running a race to keep up with our students' interests.  We abandoned our carefully planned sequential lesson plans and instead, jumped around in our curriculum to incorporate learning skills as they fit in with our design project.  As it turned out, we created a Gold Standard PBL project, incorporating all eight standards throughout the early months of the school year.
Everyday was thrilling in the classroom.  The energy and engagement of our students was remarkable.  We wanted a laser cutter so we could cut out more shapes, so we learned to write persuasive letters to our head of college.  We weren't happy with how some of our designs were working out so we invited some Sr. Technology students to come and give us some support.  Every public space needs artwork, so we investigated well known artists and created our own Mousterpieces.  The Mouse aLisa, The Mouse With the Pearl Earring, Mouse-casso, and Vincet Mouse-Gogh were among some of the favourites.  We took a field trip around our school to learn more about marketing and advertising by looking closely at the signage and posters.  We then used the design elements that we studied to create mock ups of our posters and hired the Sr. School Design Technology students to create them for us. We paid them in cookies! According to one student the Grade 2 students were 'tough' customers.  They had very specific goals in mind and there was no saying 'no' to these customers!
To give you a little bit of background information, my teaching partner, Barb has a Bachelor of Fine Arts from the Parson's School of Design in New York.  She always wants to add the 'fun factor' to our curriculum.  I, on the other hand, used to be a banker.  Yep, you guessed it, WAY more type A.  Along with my teaching responsibilities, I am also the curriculum coordinator of our Junior School.  I like having all my ducks in order and am 'very' accountable.  My point in providing this information is to acknowledge that teachers may be hesitant tackling PBL; perhaps they are afraid they will not 'cover' the skills and curriculum that is required.  The thing I have learned about education is that it is not a checking off a list that counts. Now believe me, nothing makes me happier than checking things off on my lists.  Education and PBL, to me at least, are more of a process, a mindset.  As soon as I got my mind around that and opened myself up, the learning was AMAZING, not to mention FUN.  And… we could barely keep up with the skills the kiddies wanted to explore while working on their project!  Barb and I make an awesome teaching team because we both are able to demonstrate our strengths as we work together.
If you are interested in the 'nitty gritty' of our project, read on!  There are 8 elements in a Gold Standard PBL Project.  For more information on these 8 elements visit this blog post This is what the 8 elements looked like in our Mouse Library project.  
#1 Key Knowledge, Understanding, and Success Skills
This is the heart of any PBL project and these are some examples of our key learning
Language

Brainstorming

interview skills – oral communication

Presentation skills – provided tours

Writing

Stories

Fiction

Non-fiction

Persuasive writing

Friendly letters

Reflections
Math

Scale

Area

standard and non-standard units of measurement

Geometry – 2D and 3D
Art

3D construction – plan, design, build

designing an environment

creating art in various styles

Art History – Created Mousterpieces of well known artists

Elements of Design – created posters to advertise the Grand Opening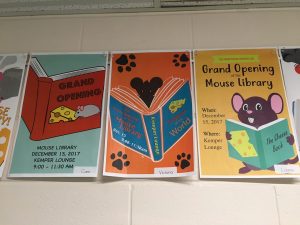 Science

simple machines – designed an elevator, tower, pulley system

Social Studies

understanding the needs of our mice

what makes a library a library
#2 Challenging Problem or Question
How might we as architects, design and build a library for our mice and their books.
#3 Sustained Inquiry
Actively engaged students

Interviews – librarians

Research – pulleys, gears

Design teams

Art History inquiry

Reflections

Renovations

Feedback from Experts

Advertising – elements of design

Presentation techniques

Writing – who is our audience
#4 Authenticity
Actively Engaged Students

Real world problem of where to store our mouse books.  This problem certainly captured our students' interest, and was connected to their concerns and identities.
#5 Student Voice and Choice
 

Able to choose components of the library they wished to work on

Design/Planning

Building

Décor/Art

Shelving

Furnishings

Theme zones
Able to choose an artist style to emulate in their Mousterpieces – the artwork in the library

Able to choose the role they wished to fulfill in our public demonstration

Voice

Persuasive writing – to gain approval for the purchase of a laser cutter

Adopted the role of clients 'hiring' Senior School Design Technology students to create digital advertising posters for the Grand Opening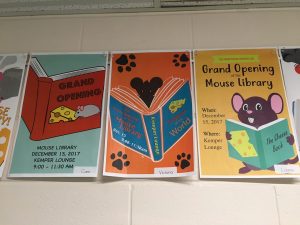 #6 Reflection
Ongoing whole class critique of our progress

Ongoing modifications to the structure

Adjusting our process to suit needs

Reflection Writing

Self reflections
#7 Critique and Revision
Ongoing Assessments

Grow and Glow

Poster design feedback

Structure progress

Self Assessments
Expert Critique

Launch Pad curator – Mr. Wiens

Operations Manager –

 

Mr. Kwiecien

Learning Commons Staff – Mrs. Poremba, Mrs. Watson, Mrs. Ayotte, Mrs. Campbell

Human Resources – Mrs. Kerr
#8 Public Product
Grand Opening of the Mouse Library
When we started out on this project, we never dreamed of it being a Gold Standard project, we were taking baby steps into the world of PBL.  This was our very first attempt and we were prepared for a bumpy road of learning, and fumbling our way through. Fortunately for us the iterative nature of PBL allowed us to just keep getting better and better each step of the way. The thing is, with the right project, PBL is so easy.  Now I don't mean you get to lounge around with a glass of lemonade kind of easy, although that is where the kids put us in the Mouse Library, I mean the kids drive the learning and you just strap on your roller skates and try to keep up with them.
In the end, this project involved approximately 100  people in our school, and we are grateful to each and everyone of them.  But I would be remiss not giving recognition where recognition is due!  First of all thank you to Dr. Carrie Annable  and her team who brought the PBL conference to our school.  Thank you to HSC for your commitment to this shift in learning.  Thank you Mr. Michael Weins, our launch pad curator, who was instrumental in the design and development of this project.  Thank you to Ms. Amanda Rogers, our Livingroom curator, who supported our students with their movie project.  Thank you to our Learning Services teacher, Mrs. Kelly Bent, who is always a support and a cheerleader for our learners and us teachers in the Jr. School.  Thank you to our principal, Mrs. Shailau Spivak, who encourages us to take risks, iterate and share what we have learned with others. Finally, thank you to my amazing teaching partner, Ms. Barbara Reade, for jumping on this PBL train with me, and truly bringing our dreams and the fun factor to life. I couldn't have done it without you!
This Mouse Library Project has truly changed the way I approach education.  Facilitating such an amazing learning experience has been liberating and far more rewarding than anything else I could have imagined in my profession, and the amazing thing is it just keeps on going.  I can't wait to see where the students will take us next, but I know for sure, we are not going back to the way things were!
If you would like any more information about our project, please don't hesitate to contact me at mitcheli@hsc.on.ca, and if you haven't already done so, register for our PBL conference here
Jump in, you won't regret it.