Sometimes I feel like the last analog citizen in the world. This morning at Starbucks, I paid for a vente americano with 14 quarters. The three customers in front of me all paid with some variation of a plastic card embedded with information: a Starbucks card, a debit card, a credit card. I think I saw someone tap something. Although my form of payment was perfectly acceptable, I was left with the impression that I am somehow old fashioned. Nevertheless, my transaction was quite fast and I did not have to fumble over a keypad or wait for "Approval".
This unease informs my practice as a teacher-librarian. Regardless of evidence to the contrary, I am the "book guy". It does not matter that my library subscribes to a dozen databases of journal articles and multi-media primary or secondary resources, or that the library manages one of the largest databases in the school. Our card catalog disappeared in the 1990s (and even then it had not been used for ages), but teachers routinely express amazement over our electronic catalog.
I think part of the problem is the unwillingness of librarians to succumb to the "it has to be on the Internet to be good" philosophy of many 21st century educators. Librarians are nuanced in their approach to research and information gathering, appreciating that the best answers are found in a mix of resources.Yes, it might be easy to find out what the capital of Mongolia is without consulting a library, but that has never been the definition of research. In the library world, this kind of fact gathering is referred to as "Ready Reference", Ready Reference is one small part of what librarians have traditionally done. In large research libraries many librarians still assist users with this task, as not all facts are on the Internet yet, believe it or not.  Ready Reference is not the only form of research, and saying "information is a click away" is not a substitute for understanding how to find and effectively use sources in any format.
A side note – To celebrate the upcoming Grey Cup I have placed six books about CFL teams on display in the library. This series, published by Weigl, is aimed at an elementary audience, and had been a big hit with our grade 4 class.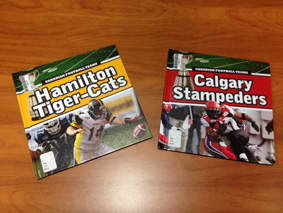 Several high school teachers have expressed amazement such a series exists. Now I know some of this amazement might be based on an assumption about the lack of interest in the CFL (clearly not the case in our grade 4 class), but much of it is based on the very idea of this kind of item exists in print at all. Isn't all of this information readily available on the Web? Well, yes, it might be, but not prepared or presented in this fashion. In a Gradgrind-type way we have assumed everything is to be consumed as a set of facts, easily accessible with a click. What these titles do, and something print non-fiction aimed at the elementary level does so well, is make learning, reading, and researching a pleasurable, positive experience. These are not the greatest designed books, but they are still better designed than 99% of sites on the web used by children or adults for research purposes.
So, I would encourage you to check in with your librarian. Yes, she or he might be reading stories to your youngest students at one moment, but in the next might be directing a student in the finer uses of JSTOR. Working in all formats is what the best librarians do, and the best teacher-librarians serve a tempering role in the rush to assume the Internet is the end of all things.