It was a great day of sharing, and of coming to a close for this amazing experience. I had a very inspiring discussion with school leaders and teachers who were genuinely interested and courageous enough to ask hard questions. A word that came to mind in our conversations today was THRIVING. Here is a sketch note that captures my process over the day as I massaged my action plan into something hopefully useful.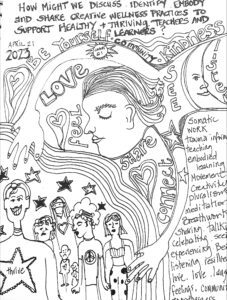 Are any of us thriving now? What do we need to do to put ourselves on a trajectory where we aim to thrive, rather than to survive?  What if our goal was not to "catch ourselves up", or "to get back to what once was", but rather it was to explore fully and honestly, how we might set ourselves up to thrive? I know that I am excited to continue to research all the ways and practices I can discover, and I have made my mind up to start to share those with other interested educators.  Our busy lives have me thinking about the easiest and most digestible ways that we can share these wellness tips. I am looking forward to exploring INSTA reels and stories, tic tok posts, and other popular social media platforms.
Meeting you all at Cohort has inspired me to seek ways to share with as many people as I can.
See u soon:)