Friday's final Face 2 Face session at Hillfield Strathallan School was a wonderful wrap-up to a very busy year of Cohort 21. I came away with a wealth of new ideas from Cohort 21 colleagues, lots of library insight from my library cohorters @lmustard and @jweening, some great affirmations from fellow participants and a lovely certificate.
.
I'll be retiring from Cohort for the foreseeable future, but will continue to follow from afar. Kudos to everyone who has taken part this year. It's been a true learning experience!
I began the 2015 – 16 school year with great optimism, and a spirit of adventure. It was wonderful to be back at SCS after a year away for my second maternity leave, and I was thrilled to finally be involved in Cohort 21, a program that I'd heard so much about and had followed from afar.
My action plan: To design an effective library calendar / booking system which meets the needs of users, and allows for effective collaboration and planning was an excellent real-world topic to tackle; it had been on my to-do list for many years, and applying the principles of design thinking seemed to be an obvious route to a satisfactory answer.
And then, life happened. As the school year draws to a close, we are starting to make plans for a very different 2016 – 17 school year. I am leaving St. Clement's after thirteen years, relocating to Minneapolis with my family, and my colleague, @lmustard, is expecting her first child in the fall. The library will look very different on the first day of school in September, with all new library staff, teaching philosophies and perspectives. There is no doubt that now is not the time to change the library calendar. In order to maintain as much structure and continuity for next year, we must continue to use our tried and tested policies and ways of doing things, at least for the foreseeable future.
I've learned so much this year through Cohort 21, both professionally and personally. Investigating my action plan truly made me realise how integrated we are, and just how essential the library is to the effective functioning and running of the school; we truly are the hub of SCS. Even making a small change to our booking procedures (and believe me, I had BIG plans) had a knock-on effect that would affect so many other people and departments within the school. In investigating this issue we also realised that the collaboration that occurs when people come to the library office to book time is key to the success of our program. Even bookings made by email do not allow for the same collaborative discussions; I will be passing this gem onto my successor as we work towards an effective handover next year.
So where to next? The issue of bookings and schedules is still front of mind, but making a change for the new school year is no longer a priority. I am advising the new librarian to continue as is, but to continue researching how other libraries schedule their spaces, with a view to making some changes in a year or two. I'm looking forward to sharing my action plan on Friday, and continuing to consider feedback from other Cohort 21 members.
I have learned so much from other Cohort 21 members, as well as from the larger #cohort21 community, particularly on Twitter. It never fails to amaze me how collegial people are, working across disciplines and schools (and, in some cases, provinces). I've been able to evaluate my teaching, and rethink some of the ways I design assignments and present information to students. I have valued being part of a longer-term PD experience, and love how it has shaped my philosophy of teaching and learning over such a short time. I shall continue to follow Cohort 21 from afar next year, and will no doubt continue to learn from those whose adventure is yet to begin…
So, here we are in February. After every Cohort 21 F2F session, we're given time to blog, but I find I need time to process my thoughts, think about everything that's happened during the day, incorporate all the interesting conversations I've had with inspiring cohort members, make notes on useful ideas etc before I commit my ideas to my blog. I'd planned to come back to school on the Monday after the F2F, and get my blog post done immediately. In fact, it's taken me well over two weeks to even think about uploading pictures to WordPress, which perfectly illustrates just how busy term two is.
The day began with a chance to chat with other Cohort 21 members, and a few minutes to review both the SAMR and TPACK models. We were invited to reflect on our Action Plan, and to think about which lens is better suited to support our plan. In my case, SAMR is more applicable; I'm aiming for the 'modification' rung, which encourages the user to think about significant task redesign. With my action plan, I'm investigating how our library schedule can be transformed by an online / technological component. Although it's difficult to apply either lens to non-classroom action plans, in this case, it the potential for application is high. I would like our schedule to be an interactive document, and a tool for collaboration. At this time in the day, my fellow table members were of great use giving advice and sharing experiences, and helped me clarify my overall objectives in rethinking our schedule. In particular, I'd like to thank @lmustard and @jweening for the great discussion about schedules and how they (should) work.
After some reflection time, we were invited to 'storyboard' what our actual Action Plan implementation will look like. Mine is shown below, and gives a great idea of my plan as it should roll out over the next few months. In particular, I realised how much time I need to devote to working with solutions we already have at the school, rather than trying to reinvent the wheel…
One of the most useful parts of the day was when our fearless leaders invited us to consider the Assumptions and Constraints that might have an impact on our Action Plans. As we forward plan, these potential roadblocks must be taken into consideration. There is so much to consider, both from a library viewpoint and a school-wide SCS perspective, before implementing a new procedure.
A significant chunk of time in the afternoon was devoted to 'pitching' our Action Plans to one of the many facilitators and coaches. This really helped clarify my ideas, and many helpful suggestions were made. One particularly helpful suggestion was to work with what the school already has (and what staff are already comfortable with); we all already use Outlook, and many of our room and equipment bookings are made in this way. Another tool I had considered for library scheduling was Google Calendar, but not everyone on staff uses this format. We discussed the pros and cons of using Outlook for booking physical spaces, and agreed that a short trial would probably be an excellent idea.
Before we left MaRS, we were asked to 'calendar' our next Action plan steps. This was incredibly useful; I always break big tasks in to smaller, more do-able chunks, and like to have self-imposed check-in deadlines along the way. However, with just a short time remaining before our fourth and final Face 2 Face meeting at Hillfield Strathallan on April 22, there's not lot of time to get on this, as well as find time to report back in a meaningful way!
Despite the positive outcomes of the day, for an introvert such as myself, I found the Face 2 Face session at MaRS somewhat challenging. I am the kind of person who likes to consider a problem, research and experiment, and the constant 'talking it out' is not a way I'd usually approach a problem such as this. However, I do appreciate that a new approach (such as the Design Thinking Process itself) is often the best way to get inspired and creative outcomes and solutions.
I'm looking forward to seeing colleagues at our next Face 2 Face meeting in April, and hope to have some successes to report!
I shared my Cohort 21 experience on Independent Ideas, the blog of the Association of Independent School Librarians.
Following on from my last post, I've taken some time to consider my action plan, think about what my needs really are, and think more carefully about the process. This post will consider the Design Thinking process we undertook at The York School in November, and help me work through my thoughts as we come to the end of our first term in Cohort 21.
Discovery:
We were asked to think about some problems / challenges / opportunities you or your students are currently experiencing in your practice. EASY! We have lots of issues we face each day that challenge all the different user groups we have in the library. But on that cold November day, something that was front of mind for me was scheduling.
One aspect of this part of the Design Thinking Process that really got me thinking was the interview with my partner. As I described my problem to someone else, and formalized my thinking, new ideas started popping into my head. Further, as I shared around the table, I found a variety of responses; some teachers couldn't understand why the collaboration piece was so important to us as librarians; others talked about convenience as being the main goal. It was a good reminder to keep ALL of our users' needs in mind as we continued.
Discovery & Interpret:
We re-visited our initial thoughts to redefine our problem, and see it from others' point of view. The guiding questions were excellent for garnering an empathetic response.
Ideate aka Crazy 8s:
Whilst all aspects of the Design Thinking Process are a challenge to me as a linear thinker, Crazy 8s is the hardest! To come up with eight ideas in a limited amount of time is really difficult for me; I don't think of myself as a creative person, and balked at the suggestion of using drawings instead of words. Anyway, in the spirit of all things Cohort I DID manage to come up with eight potential ideas, but it was hard!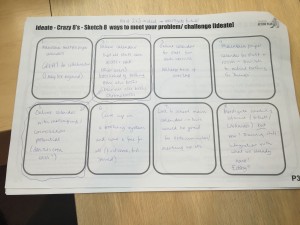 I found the partner feedback for this section useful, particularly when it came to telling me which ideas probably wouldn't work.
Ideation & Consolidation:
Taking all of my ideas, and the feedback received thus far, it wasn't too difficult to come up with a How Might We… question.
These questions were subsequently posted in a gallery walk, and all participants were invited to submit their ideas / thoughts / suggestions to each posted How Might We question… Thanks to all to made suggestions on my question!
Iterate & Build
So, after digesting all of the suggestions and comments, I started to make an action plan of WHO I needed to talk to, WHAT I needed to find out, and the RESEARCH I need to start doing…
So, action plan chosen! But I found it really difficult to blog about the process straight after we did it; it's taken more than two weeks for me to consider my plan, my school and my goals. I presented at a staff meeting last week, along with @adamcaplan and @lmustard, and the feedback I've had from staff already is quite encouraging and insightful. However, I think I've committed a grave Design Thinking error. I think I'd decided on the solution to my problem BEFORE even starting the process, and it has shaped and influenced my thinking. I need to work at investigating other solutions too, however, and not just focusing on the one I currently believe to be the best (or only).
I'm looking forward to taking some time over the next few weeks as school winds down to research planning and scheduling. As a librarians, researching is often my favourite part of any task, and I'm fully aware it's one that I can get totally lost in whilst losing sight of my end goal. I'm looking forward to coming together again as a group at our third Face 2 Face session in January, and sharing what I've learned along the way…
I knew I wanted my Cohort 21 action plan to focus on something to do with planning and organization, perhaps looking at paper vs online planning (I am a paper planner, but do see the huge benefits of an online calendar), or how students use paper vs online calendars (and why we as a school distribute paper agendas to our students in 2015). However, front of mind at the moment is the library schedule, and how we keep track of physical, human and technology resources.
Here in the Lassonde Library, we need to track the following:
two teaching spaces in the library
two seminar rooms (one of which has a regularly scheduled class in)
two librarians
40 chromebooks
30 ipads
This is what the library schedule looks like for this week:
There's lots to juggle, plus some things we need to schedule are dependent on others. For example, if I teach a grade 10 class, I only need a few chromebooks for my class, because most grade 10s bring their own devices (we have an open and flexible BYOD program). However, if grade 6 are coming in, I need a full class set of chromebooks for them to use. Additionally, demand for technology means our chromebooks are often booked for use outside the library.
But I *love* my paper calendar. I've used a paper booking schedule for every one of my thirteen years at SCS. Looking back through them is like looking at a professional archive. And the thing I love most about my paper calendar is the opportunity it brings for collaboration. Whenever a teacher wants to book library time, they head to the library, and we have a conversation about what resources they need, the direction of their assignment, and how we can best teach research and library skills to students through the project.
Many other facilities and services at SCS are booked through online calendars (and, in fact, our iPad booking and seminar room booking is online too). Is it time to digitize the library booking system, and potentially lose the collaboration piece? Do we need a new kind of solution altogether?
To say that my brain hurt after this Saturday's Face 2 Face session at The York School is probably something of an understatement. I am still processing, pondering and reflecting on everything I learned, heard and experienced. I spoke to so many people, yet also managed to find some quiet time to reflect and think. To achieve that in a single day's PD session is quite unusual, and kudos to our C21 leaders for creating a learning environment in which that can happen!
We followed the Design Thinking process, as outlined by Design Thinking for Educators, from its beginning. From identifying a potential problem or issue, to brainstorming solutions, to sharing, listening and offering feedback, what started as an individual journey at the beginning of the day had turned into something of a group project by lunchtime, and then a very do-able target by the end of the day! The gallery walk-through of ideas was incredibly powerful; some of the problems other Cohort members wanted to investigate were things that had bothered me for years, and others I had never even considered before, but YES! OF COURSE! Seeing this gallery of incredible ideas, and listening to input from colleagues, I realised just how incredibly talented and diverse CIS faculty are, as well as how far teaching and learning has come since I started my job twelve years ago.
I'll save the specifics of my potential Action Plan for another post, but wanted to reflect on my thoughts on Design Thinking immediately. The Design Thinking process was incredibly useful and is definitely one I'd use in the future when pondering big projects. I tend to be a 'come up with two potential solutions and choose one' kind of person, whereas the potential of 'Crazy Eights' in Design Thinking is huge! So now, onto thinking about my action plan…
When I teach library and research skills to students, one of the first things we discuss is 'who, what, where, when, why and how'. So, where better place to start?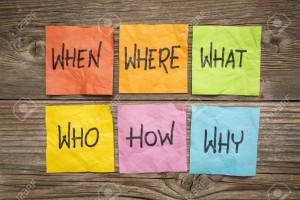 WHO?
Oh, the people! I spoke with educators from all over Ontario; with French teachers, chemistry teachers, tech integrationists, experienced teachers and new teachers, and I had lunch with the person I share my office with here at SCS. I followed countless people on Twitter, connected with the facilitators, and started to think about Design Thinking in a new way. The breadth of knowledge in the room and the willingness to share was phenomenal.
WHAT?
I've followed Cohort 21's online presence for a few years now, so I'm thrilled to be finally able to take part. Three librarians have participated in Cohort 21 since the inaugural year; Tim Hutton from RSGC, Sara Spencer from York and Laura Mustard from SCS.
WHERE?
Let's pause to give a shout-out to Bayview Glen's beautiful new Upper School library. You can tell a lot about a school by their library, and how they fund it. This is the second meeting I've been to in the BVG library this year, and I love how they have designed their space.
WHEN?
It was a Saturday. I have two small children, so time is precious. I arrived home after the first Face 2 Face session energized, inspired, and full of ideas. I'd say it was a day extremely well spent.
WHY?
I have been at SCS for twelve years. I'm lucky to be able to work with Laura Mustard and Adam Caplan, both Cohort 21 coaches this year. Although we are comfortable with technology here in the Lassonde Library, I'm looking forward to being inspired, learning about new tools, and having the chance to work on a year-long embedded PD project. So much PD is small-scale, and only somewhat relevant to my professional interests, so the personalized aspect of the Cohort 21 experience is what really appeals to me. Collaboration with teachers is absolutely key for my job; I'm looking forward to reaching out to SCS colleagues in new ways, and working with educators outside of the walls of 21 St. Clement's Avenue.
HOW?
I commit to tweeting, diigo-ing, hanging out in Google hangout, reading, experimenting, talking, commenting, favouriting, +1-ing, blogging, and having impromptu Cohort 21 meetings in the hallways. I'm already looking forward to our next Face2Face session at The York School in November, but for now, see you online!