Finding Purpose after 7 Months of Loss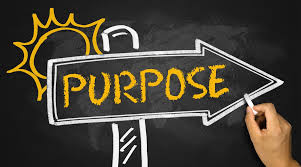 It's been almost 7 months since my last blog and my last Twitter post: 7 months of what seems like perpetual loss. If you haven't been paying attention, let me give you a rundown of what has happened since that time. A global pandemic has rocked the world that forced countries into quarantine and changed the way that basic human interaction, communication, and daily routine takes place; social injustices have come to the forefront of people's concerns which has sparked protests from country to country; violent actions seen from police and rioting from various ideological groups alike has changed the way that we view law enforcement and how we view society; one of Canada's most well-known cinderella story charities known for their wide support of developing countries has ceased operations in Canada; what it means to be a teacher, a student, and an administrator have been reconstructed as the ways in which schools operate have been profoundly altered for the foreseeable future; countless other societal changes involving sports, laws and regulations, and concerns about safety precautions have overwhelmed our news feeds; the second wave of this deadly virus has officially hit; and, lastly, I stopped writing.
If you're thinking that the last point on the list seems rather minuscule in comparison, you'd be right. Yet it's precisely because of everything that has taken place that caused me to, at least temporarily, view my writing as insignificant. With the change, uncertainty, disruption, violence, concern, panic, loss, tragedy, and loneliness that has wreaked havoc on the world, my insights were minuscule. Indeed, my voice was not needed. For governments, it was a time to mitigate the spread of the most impactful disease in over a century. For health care professionals, it was time to care for their patients, our loved ones, in desperate need and to fight the ongoing battle of misinformation. For society and social injustice, it was a time for other voices to be heard.
In the early stages of the lockdown from the pandemic, I met online for a professional coaching session with one of my colleagues and articulated that I hadn't written in some weeks. I primarily spoke about loss. Not the loss of writing, or the loss of loved ones, because I was one of the fortunate to not have suffered this type of loss during the new COVID era, but rather I spoke about the loss that I was feeling and the loss that students were experiencing. I mentioned that sports were gone, friends were torn apart, and, especially, for the grads of 2020, loss of their final (and, let's be honest, the most enjoyable) term of high school, loss of spring formals, loss of prom, loss of graduation, and loss of a closing chapter of their identities that had been central to them for the previous four years. A tear came to my eye, as I thought about this cohort of students who would never get those experiences and 'rights-of-passage' back. It wasn't a question of not wanting to write or what to write, but rather why to write? What is the purpose of my educational blog in a time of such profound loss?
Many educators, and certainly educational bloggers, found the strength to continue to push through. And their writings were invaluable in the support of teachers across the globe who were forced to dismantle their learning plans and rely on teaching platforms that they had never used. To those who continued to find their strength, I applaud. My insights likely could have been well-suited for other educators in those early days of the lockdown as I previously had experience with online teaching and a strong knowledge of online tools to support educators. Yet, I couldn't find the emotional strength to do so. As such, along with a loss of purpose in my writing, a sense of guilt set in for my lack of writing in supporting those who could have used it most. Compounding this guilt was the realization of my selfish "woah is me" style thinking when people from every continent in the world were dying from the coronavirus and societal fabrics were being torn apart as a result of social injustices. 
This pandemic has impacted people differently. Tragedy impacts people differently. And loss impacts people differently. I was not ready, emotionally or spiritually, to continue to share my educational experiences with the world (or those few who read my blog!). While some experienced tragedy to a greater extent than others, we all felt loss. So, as I'm writing, it begs the question: why now? Is the loss of others any less significant? Is the impact of this pandemic, on myself or others, any less felt? Is my voice still needed? For the first two questions: absolutely not. For the last one, I don't know. 
When I began blogging, I started writing to share my insights about teaching with others, but, in many ways, I write for me. Writing can be therapeutic and it can be healing. When an injury occurs, you can't always jump back into the sport you love; you need to recover and rehabilitate. Our society has been rehabilitating, and our students have been recovering from that loss previously mentioned. My hiatus from writing was my own form of rehabilitation, that, for better or worse, understood or not, was needed for my healing. Being back in the classroom has also helped me to find my purpose again and to make up for the loss that I've experienced. My healing process has begun, and maybe this post will encourage others who have felt a similar way since March to find their purpose in spite of their loss. And to write.