Creating a network of Visual Arts teachers within CIS schools has been the focus of my Action Plan (Part 1).  I realized right away that I have already created a platform to open the discussion by founding the CIS Student Visual Arts Festival in 2017 with @drutherford.  When we created the CISVAF, we were focused on the student experience and on designing an opportunity for students to be inspired, collaborate, connect and share their learning, while working with professional artists in workshops around a specific theme. This festival has been the bulk of my 10x (@sethgodin) work for the past 3+years.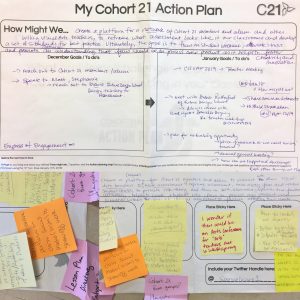 This past year, I have been collaborating with Matt Wyatt at SAC to help support the organization of the 3rd annual CISVAF for 2019 that is set to run this week!  This experience, as well as the opportunity of being inspired by #Cohort21 (which I will be eternally grateful for), has reminded me that I have been seeking a deeper connection with Visual Arts educators in CIS Ontario.  The goal of creating this network is personally significant; a quest to end my solo experience and begin a network of support, encouragement, and inspiration for other educators that might be feeling disconnected and in need of some cheerleading!
In speaking with @drutherford (Future Design School and Cohort alum) about this action plan, she brilliantly condensed my long-winded thoughts into: "HMW leverage the CIS Ontario community to drive innovation in visual arts?" – when you need help, ask a pro! Right, @lmcbeth!  I am thrilled that Diane will be running a Future Design workshop for Visual Arts teachers based on this HMW at this year's festival.  Afterward, we will follow with a networking opportunity.  @jroberts @ahughes @dmonson @lbelanger @lwest ~ I'd LOVE your input and to hear your ideas about how to make this experience great!  I'm hoping we can connect at the next F2F as well.
I'm including the below images, as I am proud of my girls for finishing the collaborate artwork from the CISVAF 2018 this week.  The smaller 4 x 4 individual artworks are based on the theme, "Gender: Defined and Redefined" and together represent the CIS schools that attended.   At the festival this week, we are looking forward to sharing the 48″ x 48″ resin coated panel that it has evolved into.  How awesome for the student leaders who organized the event for the past two years to see and experience how the festival has evolved at SAC.  We can't wait!