I have arrived at the following question:
How might we teach Junior School students self-regulation strategies to help them reduce their anxiety? 
I chose to focus on this question because I have noticed an increase in student anxiety in recent years. Interestingly, I have noticed my own anxiety increase during that time as well so teaching students strategies to help reduce their anxiety will likely help reduce mine too.
Here is my action plan road map:
I appreciate all of the feedback I received from teachers at other schools at the last face to face session.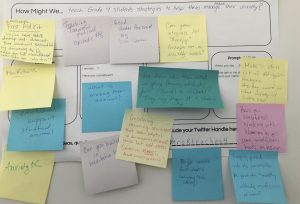 These suggestions have given me a lot to think about. I'm going to start by asking students if they know what anxiety feels like and what is making them anxious (if anything).