As this has been a school year where we are going "back to normal," this also comes with added responsibilities, extracurricular activities, and an 8- day schedule at our school. This means that instead of having semesters, students will rotate through 8 full-year courses. Wearing the hats of teacher, assistant house director in our residence, and coach, I can meet with students in different capacities and see how a shift back to the "norm" has impacted them.
I have become very mindful of checking in with my students and how much they value that time. While it is great to meet with my group of 11 students during our Advisor time, I have been trying to set up 15- minute check-ins with each of my students. Paired with this, I have also brought in a little helper you see in the photo below. Our advisor, squid "Squishy," has brought some giggles but is also a great starting point for how my students are doing when they enter my classroom. When students outside my advisor group heard about this, they were excited and approached me wanting to speak after class. In my Gr. 10 Careers class, students advocated they wanted to spend more time talking about mental wellness and strategies for themselves and how to support their peers.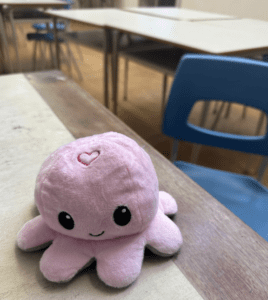 When I reflect on my goal for Cohort 21 this year and what I would like to focus on, the following come to mind: 
How do I build in more opportunities for conferencing? Especially in my classes? 

What does a structured conferencing session look like?

Can mental wellness and learning curricula be integrated? If so, how?
When addressing these questions, I want to be sure that in the process, I am building confidence in my students and a plan in place they can take with them, especially once they enter post-secondary education. At our school, we focus on students building/ improving their learning skills: Organization, Responsibility, Initiative, Self- Regulation, Independent Work, and Collaboration.
Can we connect these skills to supporting emotional/mental health? When students reflect on their learning skills before a report card, they can also reflect on their mental wellness practices, as these often connect to their success in the classroom. If so, how do we collect this data? Is this on paper or through conferencing? 
These are all questions I am reflecting on as we enter our second session. I look forward to working with everyone, especially my "Bridge Buddies" this year!