What is a Technology Coach?
How can I help? What do you need? Where do your students need support? These are the questions I ask my teachers, and myself, everyday. A technology coach is part leader, part follower, part IT, part EdT, but certainly all "learner". In a recent White Paper, entitled "Technology, Coaching & Community", the issue of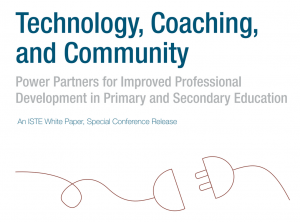 awareness and implementation of EdTech was discussed. One of the main focus points was on the role of Technology Coaches. In the paper it defines some challenges and solutions.
A recent study commissioned by the Richard W. Riley College of Education and Leadership states that teachers who use technology frequently to support learning in their classrooms report greater benefits to student learning, engagement, and skills from technology than teachers who spend less time using technology to support learning, especially in the area of 21st century learning (Grunwald Associates, 2010).
It defines the problem as "Many teachers do not know how to designand support technology-rich learning environments." This is where the role of Technology Coach is integral: raising awareness of what is available and what is out there for teachers to help redefine how their classrooms work. It is a fine balance, however, between raising awareness in an effective, controlled way, and being too unstructured so that it overwhelmes teachers.
The paper goes on to suggest a solution: "Coaching, combined with communities of learning, is a highly effective job-embedded PD model." As I read this paper, I couldn't help but think that the Cohort 21 model is something these researchers looked at, or had in mind 🙂 But again, the role of Technology Coach is to help provide entry-points into these communities; to create a network on different levels, with different connector hubs within one's own school.
An example of this is the movement to get #BVGLearns, #LCSLearns, #GCSLearns, #YorkLearns to continue to build capacity. Via Twitter, those inclined can leverage these like-minded communitites for support. Perhaps, then, they in turn will spread their information, ideas and
solutions to within their own schools, or visa-versa. Thus hubs of digital and face-to-face, surface and deep relationships, spread throughout our institutions. This is a great way to allow teachers to own their own professional development, get the resources that they need, as well as the support that they need. A Technology Coach should never be the "gate-keeper" to the professional development that is out there, or that is needed. They should be the conduit.
A recent study argues that effective professional learning is intensive, ongoing, focused on the classroom, and occurs during the teacher's workday
(Darling-Hammond, 2009)
The paper offers the results of this type of solution. These are results that are reflected by our own members of Cohort 21: "Teachers experience technology as an effective toolfor professional learning and develop the skills to powerfully use technology to improve student learning." While this is not the required outcome of Cohort 21, it is hard to deny that once the members are exposed to the Cohort 21 ToolKit (Twitter, Google+, Diigo, and WordPress) that members see the power of applying these to student learning as well.
The role of the Technology Coach will always be important to teacher, but it is more than just supporting teachers. It is about knowing how to provide entry points, resources and good pedagogy to support student learning. TPACK serves as a great model for technology coaches, and I encourage all to check out the resources from our previous F2F to learn more.