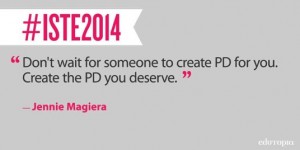 After reading the article that Allison Harding pointed us to, I can't help but think of the invisible refrigerator analogy and subsequent discussion that we had about the role of Edtech in education, schools, and our classroom. The article that Allison posted is entitled "Our tools shape us." So I wanted to try and square this circle for our Face-to-Face discussion on Nov. 22nd at Bayview Glen.
New EdTech tools are coming at educators from everywhere, and we at Cohort 21 certainly showcased a few at our first Face-to-Face at The York School. We have used these tools before, and continue to use them because they serve a purpose – they let us accomplish something that we need to accomplish quickly and efficiently. That is an important feature for us in planning our sessions.
However, another way to look at these tools is through the SAMR model. The way we are using these tools isn't revolutionary, it doesn't redefine the how or the why of what we do. Using a Socrative exit card, or an OnLine poll, simply allows us to gather information
quickly and use it to help frame the next session. I would put it at "A" in the SAMR model.
But these tools become so very important between the sessions: they help us redefine what it means to be a community of learners. Sure, it's not always a perfect fit (as Leslie McBeth and Meg Wallace blogged about), but it helps us to stay connected, stay learning, and helps shift our practice in many ways.
Looking at blogs from Cohort past, here is some support for how our tools help build community:
Bart Van Veghal (BSS – '13-14): So if anything, this blog and the Cohort are allowing me to be reflective on my use of technology personally and in my practice, as well as providing a sounding board for me to hash out potential areas of interest in further study.
Chris Coyne (Pickering College – '13-14): Cohort 21 is a wonderful idea to bring schools together, learn new tools all awhile enabling everyone to experiment with the tools and work collaboratively together.
Jillian Green (Mabin – '12-13): Being a part of this community is a huge opportunity for me to push and challenge misconceptions I have about using technology in the classroom (and in life).
Marcie Lewis (Ridley College – '12-13): Teaching can be difficult some days and at times we all need reminders of the bigger picture. The confluence of information that flows through my Twitter feed on a regular basis, restores me in my practice as an educator in fulfilling my professional interests and goals. There are always people sharing resources, having discussions, milling over ideas, looking for better ways to do something, reaching out for assistance. It is very spontaneous – you never know what you might find!
What echoes throughout these quotations is that we get to use the tools to help us personalize our communities, and how we interact within them. We are redefining how teachers approach PD by making it on-demand, asynchronous, blended, and personalized to what our members within the community need. As facilitators, we help make valuable connections within the cohort itself, to alumni, and to a larger audience as well.
In conclusion, we are shaping our tools and in so doing we are shaping our community, and in so doing we are shaping our PD, and in so doing we are shifting our practice… What would Marshall McLuhan have to say about that? What do you have to say about that?
Click some of the links above to connect with Cohort 21 alumni and see their journey!