UPDATE: on Dec. 2nd @sethgodin published this on his blog: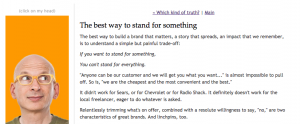 I'm reading a book – by all accounts a great, award winning book – but I just can't get into it. I don't see the greatness, and I don't connect with it. Is it the book, or the fact my kids are jumping around me, the kettle is boiling, my radio is playing my favorite song, and I just can't choose what to pay attention to…Or am I bored? 
---
Boredom is an emotional or psychological state experienced when an individual is left without anything in particular to do, is not interested in his or her surroundings, or feels that a day or period is dull or tedious. (WIKIPEDIA)
My circular argument: Boredom is the opposite of engagement. Engagement is in opposition to over-engagement. Over-engagement can lead to boredom.
At our second face-to-face for Cohort 21, many of our participants talked about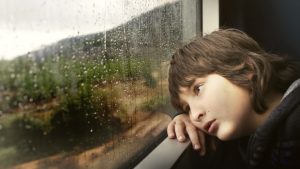 the issue of engagement. Leslie McBeth wrote a great post about it, and recently it was a focus on CBC's IDEAS, in an episode entitled "The Tedium is the Message". In this episode, and something in opposition to Leslie's post, there is the idea that boredom can lead to an increase in creative thinking:
As a society, we have zero tolerance for the emotion [of boredom]. Possibly to our own detriment.
"We  are spending too much time trying to get rid of boredom, swiping and scrolling every moment of the boredom or tedium that their can possibly be, and yet, in doing so we're actually becoming more bored as a nation." — Sandi Mann
There are different ideas about just where our war on boredom may be leading us, who and what the casualties may be.  Also up for debate, is whether adding little, or even a lot more boredom to our mental diet could be just the thing for our addled age.
So, tuning out can be valuable. Spacing out can be a way to come back and be more creative. But the proponents of wellness, meditation and mindfulness have known this for a long time.
Enter the practice of Yoga, the mindful moment, and the meditation in class. These are strategies that I champion and have implemented in my own practice, and in the schools in which I work. I believe in them. However, I wonder if these strategies aren't just interventions…
I wonder about these practices as ways to disguise a deeper issue… one that we hesitate to bring up in education because it can fly in the face of all we hold dear. I
wonder if we are not forgetting about the concept of "Free Time". Time that is free for our students (and dare I say 'ourselves) to choose what it is that we do…To choose how to spend our time. A recent article from MindShift that was reprinted from "Overloaded and Underprepared: Strategies for Stronger Schools and Healthy, Successful Kids" by Denise Pope, Maureen Brown & Sarah Miles :
Another nationwide study found that children under 12 years old have approximately two hours of free time during the day and that this decreases as they get older (Hofferth & Sandberg, 2001)…Of course, the benefits (or risks) associated with the amount of free time depends on what kids do with that free time. Watching TV for three hours each day may be detrimental to kids, but spending unstructured time playing with friends or family is associated with positive outcomes (Barnes, Hoffman,Welte, Farrell, & Dintcheff, 2007; Larson, 2001).
To what extent do our students know what to do with 'Free Time'?
Making Choices…
Where are our students asked to make meaningful choices? Choices that ask them to Not over-extend themselves, and be 'over-engaged'?  Not just the 'should I go to my drama rehearsal or my field hockey practice tonight?' choices, but real choices like: 'how is being a part of these two heavy commitments adding value to me? What stresses are they putting on me? Should I just do the Senior Play this year?'
How might we build and cultivate the skills to make, and support students in the making of real choices?
We see such talent on our students: the student-athlete is a term used often in our schools. And we want our students to engage in the opportunities that help them build these talents, and find their passions.
Kids Matter, an Australian organization writes: Having the skills for thinking through decisions makes a good decision more likely, but it doesn't guarantee one. Other things can get in the way
But, as was investigated in the IDEAS episode, how can they "go deep" in sports, and truly appreciate their talent, and interrogate their experience to see if it is their passion, when they are stretched elsewhere? Like the book-reading example above, or a student who is reading a novel while their phone is close by will report, more often than not, that the book is boring – is it because it is boring, or is it because the other thing prevented them from engrossing themselves in the experience?
What is wrong with a student saying "no" to being over-extended, and allowing for more boredom in their lives? More daydreaming? @kcarlson has written recently in her blog about how "So many [of our students] suffer in silence, slogging through when things get tough, afraid or unable to ask for help, and worst of all, feeling alone. Drowning.  "I'm fine," has become our trigger response when asked how we are, but it's often just not true." I wonder too, if we slog through from one engagement to the other, without being engaged.
Katya Anderson, responsible for customer experience at Capital One wrote a post that resonates with this as well:
The peril of trying to do it all is that nothing that truly matters gets done. Our real work, in whatever moment we find ourselves, is not to perform. It is to imperfectly be together and listen to each other. It is to look beyond our packed agendas to the greater possibilities that hide in plain sight, out there in the world and maybe even closer, in our own hearts.
There isn't anything wrong with asking students to make choices. Of course not! But there is a pressure that is out there to engage in all facets of life. There are many who want to have a say in the 'packed agendas' of our students… it may come from a coach, a favorite teacher, a parent, or peers.
Do we, as schools offer too much? Do we as parents have a tough time saying no to opportunities? Is our timetable and calendar too busy? Do we allow our students to say 'yes'?  These are the initial questions to ask ourselves…
I'd love to hear if, how, and any strategies you have to support students in making choices so that they can be engaged, truly engaged. I for one, no longer use the word busy. I use the term "Highly Engaged" – this is for two reasons: one is to deflect the notion that to be busy means to be accomplishing only a little while expending a lot of energy; and, two, that engaged conveys a message of caring deeply about what it is that I am spending my time on. It's a little piece, but language carries a lot of weight.