3 Resources I've Loved this Week…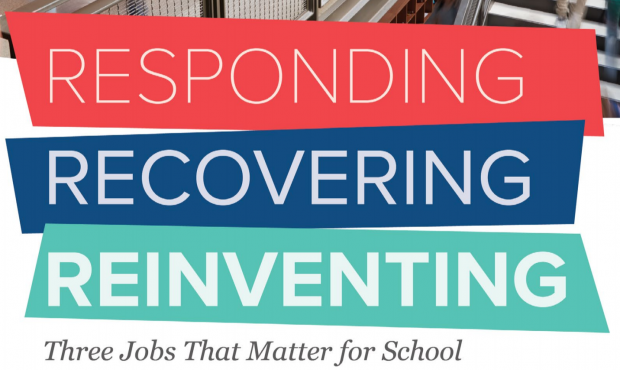 This week I found more energy, thanks to a shift in the conversation about coming up for air. Government officials began to consider what it might look like to ease the isolation and closures; and, school in other parts of the world are starting to open back up in phases. It has been a long dark tunnel we have been walking together, but there is a light I see ahead!
Here are three resources that I have taken inspiration from. The theme is what we can appreciate from this time, and what we want to bring forward with us as we emerge from isolation.
1) A Year of Purpose: Article by Michael Horn
CLICK HERE
This is an article about a Gap Year. I've written before about the power of a Gap year, but here is a great argument not only for WHY, but HOW. There are elements of our time in isolation that have caused shifts in both education and workplace.

Let's take advantage of this to blur the lines between the learning and working: the work study. What might this look like in an age or remote learning? What might students need, what might they leverage now that they, workplaces, educational institutions have upskilled and pivoted?
Entrepreneurs and established organizations in the private and public sectors should seize this opportunity to curate these experiences and make them affordable and accessible so many students seeking other options besides college can benefit.
2) Responding, Recovering, Reinventing: Three Jobs that Matter for School Communities Navigating a COVID World
CLICK HERE
The piece that resonated with me was about "Recovering". This is a piece about our ability to understand this inflection point and pivot into it:
In the midst of a crisis, it can be hard to even think about recovery.
However, this vital work will be about healing, recouping learning,
restoring community, reflecting on what happened, getting ready for
what's ahead, and ultimately making a key choice: how much energy will we devote to resuming school as it was vs. rethinking what it could be? This choice point may represent one of the most important moments of leverage for altering the trajectory of schooling in America.
3) CIS Ontario Remote Learning Reflections (warning: self-promotion!)
CLICK HERE (Note: You will need a CIS Ontario log-in)
I have worked with @scraig and @jmedved and many educators from CIS Ontario to surface the unique value propositions of our schools during this time of school closures. We have done two at this point:
Academic Learning in the Elementary Panel
Wellbeing programming in the Middle School panel
It is so inspiring to hear how our schools are standing tall, taking approaches that are right for them, their students and their communities. What impresses and inspires me the most is their willingness to come together and share. In this way, we are becoming a stronger community of educators and schools.
Thanks to @rmarks @ljensen @nblair @tjagdeo @jlintern @jillian and the many other educators that have joined – and willbe joining! Tune in this coming Wednesday to hear about Student Leadership in the Senior School.
I wish you good health, and may Week 7 bring you more energy and optimism!