Here's a quick post that is inspired by a guilt trip from my crusty-worthy, I mean Trustworthy colleague, Timmy Rollwagen. My action plan has really centered around feedback and using technology to improve the quality, timeliness, and effectiveness of my feedback. As an English teacher, I'm constantly behind in my marking. And, as I pour my heart and soul into the annotations on student products, I've come to realize one immutable fact: students usually don't read what I write on the side of their essays.
So, what am I doing about it… now that I've been inspired by my Cohort 21 cult? Well, here's a snapshot of three initiatives I'm taking (some low-tech, some high-tech) that I feel are improving student feedback:
#1: GO Pro! Using the Go Pro camera in my classroom has been an interesting addition, but one that I feel is working well. Our AP Prep Language and Comp class has been focused on a non-fiction unit centered around Harkness Discussions. I have been filming the discussions, and then posting those vids to a location where all of the students can watch the discussion over and see how they did. Students who missed the discussion can also watch. One big benefit took place when a student who disagreed with my evaluation was able to watch the video with me, and we could really focus on areas for improvement and strength. Here's a link to one clip from a discussion: Harkness in progress, AP Prep.
#2: GO Old-School! Displaying student feedback and learning has been an awesome addition to our classroom. During Harkness discussions, students who are observing complete "Reverse Peer Feedback" sheets that they give to an individual who is participating in the Harkness. In addition, a student "tracks" the discussion flow with a diagram. Displaying the anecdotal feedback plus the diagram flow-charts has created a space for "Visible Learning" that the students truly appreciate. Here's an example of our Feedback Wall: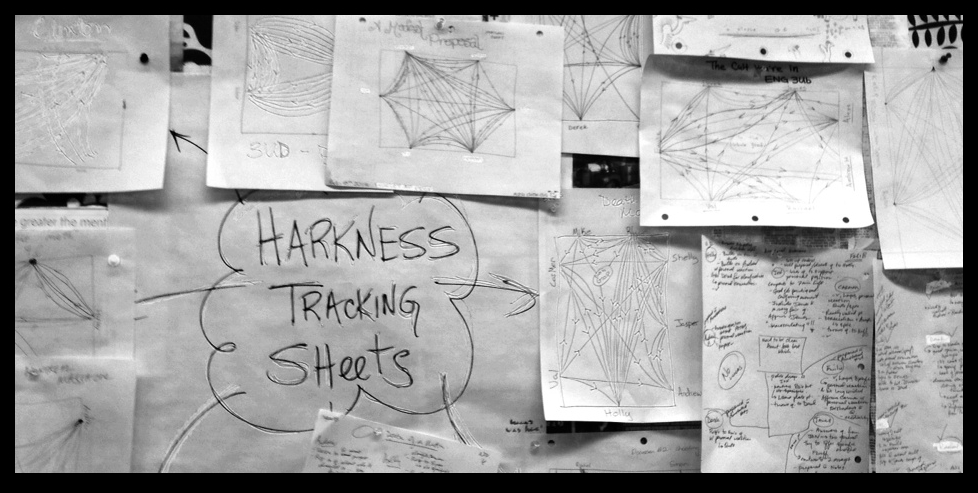 #3: Video feedback. Recently I have started using an app called "Monosnap". In addition to being a great screenshot tool, it has been the easiest screencasting tool I have used all year. I have tried many different products, but Monosnap is the easiest and most effective. It allows me to record my screen, including a view of me in the corner plus the rubric or assignment I am discussing, and then at the end upload it to "the cloud", where I can get a link to paste in an email to the student. I have also started to use this when I'm away from class due to sports; I will create a video explaining that day's lesson, and the students seem to appreciate this.  Here's a quick link to one of my feedback videos using Monosnap: Student feedback example.
Overall, making the feedback VISIBLE, ACCESSIBLE, TIMELY, and INTERESTING has resulted in improved student engagement and, I believe, better student results. I am getting feedback on what is working and what is not, and that only makes my teaching better.